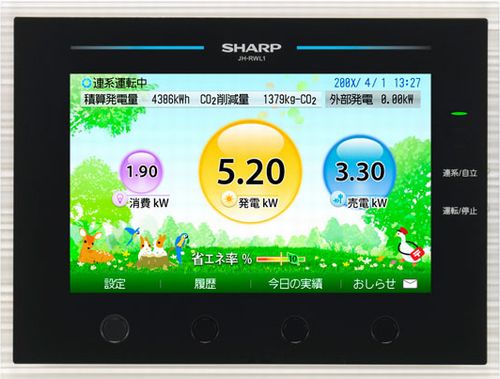 Copyright Sharp Corp.

Sharp Corp., a major Japanese electronics manufacturer, launched a new device for monitoring photovoltaic (PV) power generation on April 1, 2009. This is the first product in the Japanese PV industry loaded with both functions of broadband communication and web server.
The new monitoring device sends a household's PV power generation data to other home electronic devices with a web browser function, such as personal home computers and LCD TVs (liquid crystal televisions), so that users can monitor their electric power generation on-screen in color and in real time. This device can also display power generated by household fuel cells or a gas cogeneration unit, and then calculates total electricity generating capacity by adding up PV power generation.
Sharp also started a new web-monitoring service April 1, 2009. Receiving data from users via a broadband network, the company provides customers with value-added informational services. From a special website, for instance, users can download details on their power produced, consumed, or sold, which is information vital to tracking a household's carbon footprint. They can get other analysis data visualized in charts on the operational status of their PV system, power capacities, reduction of carbon dioxide (CO2) emissions, and past records of power generated and consumed.
Expecting that Japanese market scale of PV system will expand due to the resumed national subsidies for residential solar power generation, the company aims to stimulate the demand by proposing "enjoyable life with solar power system."
The Spread of Solar Power Generation in Japan
JFS Newsletter No.70 (June 2008)
http://www.japanfs.org/en/mailmagazine/newsletter/pages/
027851.html
Sharp Corp. global site
http://sharp-world.com/
Posted: 2009/06/06 06:00:15 AM