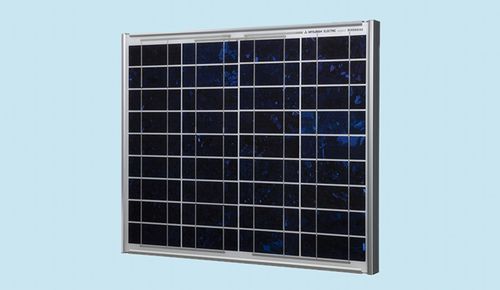 Copryright Mitsubishi Electric Corp.

Mitsubishi Electric Corp. in Japan launched four small-size photovoltaic (PV) modules for the overseas market suitable for use in solar power generation systems in areas without electricity. The shipment started in October 2008.
There are many areas in Asia and Africa where the local electricity infrastructure is insufficient or non-existent. Many countries in these regions are promoting national projects to install stand-alone PV systems equipped with storage batteries to meet electricity demands for lighting, telecommunications, televisions and other basic needs. The required output of those PV modules differ for each country and are generally in a range of about 30 to 50 watts, while the company's previous PV module models for use in stand-alone systems had outputs of 110 and 120 watts.
The company adjusted its lineup to meet the wide range of demand from each country, with its four new modules (35, 40, 46 and 52watts) being suitable for use in small residences in areas with no electricity. The cell type is polycrystalline silicon. The modules' power voltages are compatible with 12-volt batteries, which are the most widely-used type in stand-alone PV systems.
Most small residences in areas without electricity use only one PV module per house. Mitsubishi Electric is the first Japanese manufacturer to assure a nominal power rating per module at the time of shipment.
- Mitsubishi Electric Announces Shipment of Small-size Photovoltaic Module for Non-electrified Area
http://global.mitsubishielectric.com/news/news_releases/
2008/mel0714.pdf
- Mitsubishi Electric Develops Key Technology for Next-Generation Power Capacitor (Related JFS article)
http://www.japanfs.org/en/pages/027037.html
Posted: 2009/01/02 06:00:15 AM