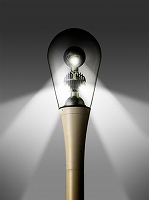 Copyright Iwasaki Electric Co.
Iwasaki Electric Co., a major Japanese electric equipment manufacturer, started selling two models of its "LEDioc Area Pusse," a new eco-friendly streetlight under its LEDioc light-emitting diode (LED) lighting series on February 12, 2008.
The LEDioc Area Pusse is a streetlight mounted with long lasting, energy saving LEDs, and is attracting attention as an elegant example of the next generation of lighting equipment. Iwasaki Electric is offering two models: an omni-directional streetlight (E5002SA1/2) for parks and open spaces, and a unidirectional light (E5003SA1/2) for sidewalks and garden paths.
The omni-directional streetlight is as bright as a traditional 80-watt mercury globe lamp, but it uses about 74 percent less electricity, according to the company, with a related reduction of carbon dioxide emissions. In addition, thanks to its long lamp life of 40,000 hours (at which point luminous flux is reduced by 70 percent compared to initial levels), lamps don't need replacing as often as conventional ones.
Moreover, the equipment itself is more environment friendly than conventional streetlamps. For instance, an LED itself does not contain mercury, it attracts fewer insects because its wavelength in the ultraviolet range is smaller, and the way the LED is mounted on the equipment it keeps light from scattering to the surroundings or upward by controlling a lens. It is also an attractive design -- simple but stylish. It almost looks like a budding plant with its transparent polycarbonate globe.
http://www.eye.co.jp/
- Iwasaki Electric Launches Energy-Efficient, Long-Life LED Lamp for Road Security Lighting (Related JFS article)
http://www.japanfs.org/db/1794-e
Posted: 2008/06/20 04:07:59 PM