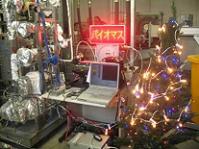 Copyright Kyoto City Government(Lighted up with electricity from fuel cell)
On November 7, 2007, Kyoto City launched a research project to develop a fuel cell system that uses hydrogen produced from biomass such as food waste and used cooking oil. This is a joint research project with Kyoto University, the Ministry of the Environment and the Biogas Study Group comprising plant manufacturers in Japan. The city aims to develop practicable technology for the fuel cell system by 2010, the city's target year for a 10 percent reduction in greenhouse gas emissions, and to establish a fuel cell system to produce electricity from hydrogen produced at its biogas plant by 2013.
The city plans to separate household waste into unusable waste and usable food waste, from which biogas is produced through fermentation. The city also plans to produce biogas from glycerin, a by-product generated in the process of making biodiesel from used cooking oil. The biogas will then be converted into hydrogen. The city has been using biodiesel fuel recycled from used cooking oil to run garbage collection trucks and city buses since April 2000.
Kyoto city has been burning household food waste, which accounts for approximately 40 percent of household waste as of 2007. By using food waste as a new fuel resource, the city will implement a comprehensive environmental policy to drastically reduce burnt waste, to reduce greenhouse gas emissions, and to secure an environmentally sound energy source.
- Kyoto City's Biodiesel Project Wins Minister's Award (Related JFS article)
http://www.japanfs.org/db/920-e
- Kyoto City Starts Project to Create Hydrogen from Food Waste and Used Cooking Oil (Related JFS article)
http://www.japanfs.org/db/1263-e
Posted: 2008/03/14 02:45:06 PM