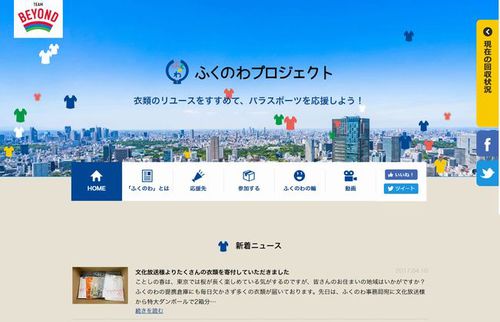 Fukunowa Project website
With the Tokyo 2020 Olympic and Paralympic Games on the horizon, various initiatives are underway in Japan to help achieve a sustainable society. One of them is a project launched by the Tokyo Metropolitan Government (TMG) in support of parasports, which also promotes the sustainable use of resources.
The TMG announced on October 6, 2016, the launch of the Fukunowa Project to provide support for parasports by reusing clothing in cooperation with the Sankei Shimbun Co. The project collects old-but-still-usable clothes being stored in homes, sells the clothes to secondhand dealers, and donates the entire amount of the earnings to the Nippon Foundation's Paralympic Support Center, which is supporting parasports in various ways with the aim to promote parasports towards a successful Tokyo 2020 Paralympic Games.
This clothing-reuse project aims to change our so-called throwaway lifestyle and promote the sustainable use of resources, and was adopted as a 2016 model project for the sustainable use of resources. According to estimates, discarded clothing in Japan amounts to about one million tons annually, about 70 percent of which is disposed of as trash. Meanwhile, despite the advancement of national and corporate support systems, parasport athletes and organizations still face a heavy economic burden.
The project collects still-usable clothes in cooperation with Harajuku Chicago, a secondhand clothing dealer. Donors send clothes to a Harajuku Chicago warehouse using a package delivery service. Any usable clothing is acceptable regardless of whether it is men's or women's, old or new, of a major name brand or not. Harajuku Chicago purchases the clothing for 10 yen (about 8.6 US cents) per kilogram, and the total amount of such purchases is donated to the Fukunowa Project. Donated clothes are sorted at a secondhand clothing factory in Malaysia, and then exported and sold in countries worldwide. Clothes unsuitable for resale are used in factories as waste cloth.
Meanwhile, reusable clothing is also collected at event sites and in schools. In the Autumn Festival held at the end of October 2016 in the Tokyo Sankei Building in Otemachi, 738.2 kilograms of clothing were collected in four days. As of March 2, 2017, 7,674 kilograms of clothing had been collected and 265,886 yen (about US$ 2,290) had been donated to the project through the reuse of clothing.
Another Fukunowa Project initiative is carried out in cooperation with Brandear, a purchasing service for brand-name products that is run by Defactostandard Ltd. This initiative targets brand name bags and shoes in addition to clothes. Brandear assesses the value of products sent in by donors, and when a sale occurs, the donors may allocate some or all of the purchase price as a donation to the Fukunowa Project.