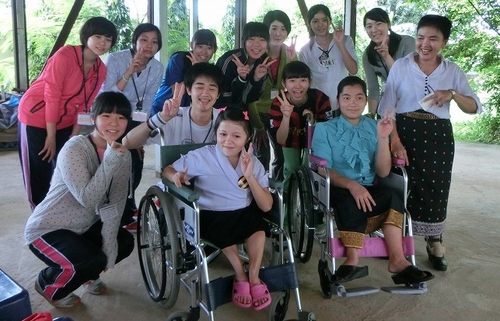 Copyright Go! Fly! Wheelchairs All Rights Reserved.
"Go! Fly! Wheelchairs," a Japanese Non Profit Organization (NPO) based in Sapporo, Hokkaido, had the unique idea to send used wheelchairs in Japan abroad, mainly to Asian countries, and with the wide support of companies and individuals had, as of April 2013, sent 2,258 wheelchairs to 75 countries in total.
The NPO collects and repairs used wheelchairs and asks international travelers to transport the wheelchairs overseas. By doing so, the NPO also hopes to raise awareness on this matter in Japan. Each one of the wheelchairs is eagerly awaited in the countries to which it is sent, because of the scarcity of wheelchairs in those countries. Each wheelchair is directly handed over to its new recipient by the person who transported it, and the details of this encounter are posted on the NPO's website for supporters of this project to view.
The NPO has succeeded in developing sustainable collaboration with businesses which have incorporated collaboration with the project into their routine work. For example, Sapporo Express Co. is a Sapporo-based transportation business which has supported this project since 1998. Now, Sapporo Express picks up and stores wheelchairs, and when the wheelchairs are actually sent abroad, transports the chairs to New Chitose Airport, an international airport near Sapporo. Sapporo Express also established a donation program called "Satsu Hakobi Ai Net" (a network of love transported by Sapporo Express) for this project. When a client uses a service provided by the company like moving, traveling and car inspection, upon request, five percent of the total cost the client pays (or for some services, a fixed amount) is donated to this wheelchair project.
Partnerships to support the project between citizens and businesses are spreading. For example, Korean Air decided not to impose overweight charges for wheelchairs transported through the project as a part of its Corporate Social Responsibility activities, making it possible to send large wheelchairs by Korean Air without additional charges.