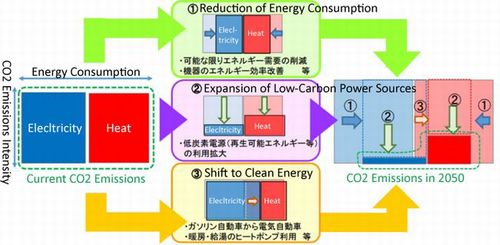 80% Reduction of GHGs by 2050
Source: Ministry of the Environment
Translated by Japan for Sustainability
The Ministry of Environment (MOE) of Japan announced on February 28, 2016, a proposal calling for a major long-term reduction of greenhouse gas (GHG) emissions and resolution of related economic and social challenges. In this article, we introduce the MOE proposal, which was summarized based on discussions on climate change and economic and social strategies, aiming for a significant long-term reduction of greenhouse gases and resolution of Japan's structural economic and social challenges.
In July 2015, the Government of Japan decided to set Japan's Intended Nationally Determined Contribution (INDC) at a 26-percent reduction of greenhouse gases by FY2030 compared to FY2013. In addition, the Fourth Basic Environment Plan, approved by the Cabinet on April 27, 2012, aims for an 80-percent reduction of greenhouse gases by 2050.
A panel focused on a long-term strategy for tackling climate change (a private advisory panel of the Minister of the Environment) was established in October 2015, consisting of experts from various fields. The panel was established, considering that, in order to reach these targets, social system reform was essential rather than simply carrying out individual measures. The proposal was summarized after five rounds of discussions.
The proposal consists of four chapters:
Chapter 1 - Scientific Knowledge and International Consensus on Climate Change
Chapter 2 - The Path to Long-Term Substantial Reduction of Greenhouse Gas Emissions
Chapter 3 - Japan's Economic and Social Challenges and Ways to Address Them
Chapter 4 - Ways to Simultaneously Address Climate Change and Economic and Social Challenges
According to the proposal, scientific knowledge shows that human-induced impacts on the climate system are evident, and that to avoid serious impacts of climate change it is necessary to reduce greenhouse gas emissions by 40 to 70 percent from the 2010 level by 2050, and to reduce emissions to almost zero or less by the end of the 21st century.
Regarding international consensus, the proposal cites the Paris Agreement, adopted at COP21 in December 2015, in which all parties agreed to make efforts to reduce greenhouse gas emissions so as to limit the average rise in the world's temperature to 1.5 degrees Celsius, well under two degrees, from levels before the Industrial Revolution.
The proposal emphasizes that innovation in social structure is essential for a long-term and significant reduction of greenhouse gas emissions towards the target of two degrees Celsius. As a result, this innovation has the possibility of having great impacts on the economy and society. Innovation in social structure is especially necessary to adapt to the current era of decreasing population in Japan.
The proposal concludes that innovation in social structure for global climate change is oriented in the same direction as to solve economic and social problems, all at once, giving examples of specific policies for each of those problems.
Strategy to address economic challenges:
- Establishment of a new, green market, which will create a huge low-carbon market, and adding value to the entire economy by leveraging environmental value.
Policies:
- Use of carbon pricing to show environmental value-added, improve carbon productivity and induce greater value-added in the entire economy (e.g., the use of comprehensive carbon taxes in an integrated way to reduce corporate taxes and reform the social security system)
- Use of regulatory methods with fixed targets for innovation
- Information-based methods to realize lifestyle innovation
- Promotion of environmental finance
Strategy to address regional issues:
- Regional revitalization by making the regional energy production and consumption balance profitable
Policies
- Support for regional energy projects
- Promotion of low-carbon urban planning to improve productivity
- Increasing value-added in local economies by making use of their natural capital
Strategies to address international challenges:
Enhancement of climate security
- Earn respect from international society as a new environmental brand
- Enhance energy security
- Establish a global low-carbon market
Policies:
- Improvement of national understanding on climate security
- Japan's contribution to reduction in greenhouse emissions in overseas countries, and leadership in the international community
The environmental panel on a long-term strategy against climate change aimed to raise public awareness of the importance of policies to deal with climate change, to implement effective measures and policies, and to steer the nation to address new challenges.