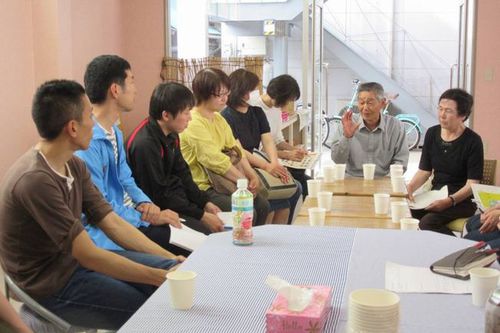 Copyright Veteran Mothers' Society All Rights Reserved.
The JKSK Yui-Yui project, an initiative to support people in Japan affected by the 2011 earthquake and tsunami, has been publishing a series of articles on reconstruction efforts called "Tohoku Reconstruction Diary" in the Tokyo Shimbun Newspaper. The Yui-Yui Project was launched by JKSK Empowering Women Empowering Society, a certified non-profit organization. Below we present the English translation of an article published on June 12, 2015, about a community space that offered support for disaster victims.
The Veteran Mothers' Society was organized in April 2011 in Minamisoma, Fukushima Prefecture, just after the earthquake. Expecting an increase in the number of people suffering from mental disorders after witnessing scenes of loss and devastation that were beyond imagination, after the disaster we veteran mothers decided to start providing attentive listening services. We felt that someone must do something in this situation, and who better than us, whose children have grown up and who could play an active role in supporting young mothers with little kids, children, and the elderly.
Many doctors and young volunteers have come to Minamisoma since the municipal general hospital here was officially selected by the government to receive medical residents for additional support following the disaster. We often receive a constant stream of visitors to our office all day long, perhaps because the office is in front of a bus stop near the station. Many people stay for tea or even for meals, giving the space an easy, casual atmosphere.
Our group is just your average citizens group whose members do what they want in the way they think is good. Since we recently received a major award for our reconstruction contribution, however, we decided to apply for non-profit status at last.
We believe the key to reconstruction is education. Based on this policy, we develop learning support programs not only for children but also for adults, such as career education, and courses on health and local issues. Members of a knitting group, elderly women, pleaded with us not to close, so we also kept our community space.
Our group provides a counseling service for people who are still processing the disaster. Continuity of activities is important. Our eki-mae ("in front of a station") nurse's office is also popular. People who attended a lecture by medical specialists come to the nurse's office for a tentative consultation meeting. Community members look to the office as a place where they can ask things they hesitate to talk about at a hospital.
Sachiko Bamba, Representative, Veteran Mothers' Society