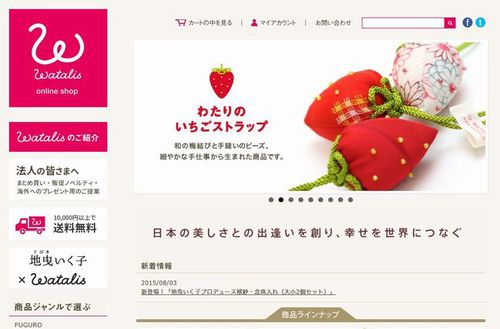 Copyright WATALIS All Rights Reserved.
Megumi Hikichi, a representative of WATALIS, an incorporated association that designs, manufactures, and sells items made from used materials in a town devastated by the Great East Japan Earthquake and the subsequent tsunami, attended events related to the Third UN World Conference on Disaster Risk Reduction in March 2015, and reported to the world that entrepreneurship innovations for sustainable economic reconstruction are taking off in the Tohoku region.
Using second-hand kimono purchased from across the country, WATALIS makes finely crafted bags called "FUGURO" and other fabric items. The items are handmade by local women in Watari Town in Miyagi Prefecture, one of the areas hardest-hit by the earthquake. By producing and selling these products, WATALIS provides job opportunities for women and helps establish a promising working environment in the areas affected by the earthquake. The handwork manufacturing also reminds people of Japanese traditions and a sense of gratitude, creating communities that connect people wishing for the revival of the town.
In three discussion events, Ms. Hikichi introduced the initiatives of WATALIS from different perspectives; activities driven by the thought of protecting families and friends and the building of a disaster-resilient community ("Talk & Talk, Women in Leadership"); examples of innovative ideas contributing to creating a "New Tohoku" ("Current State and Initiatives of Reconstruction from the Great East Japan Earthquake);" and entrepreneurship to solve social problems in disaster-affected areas ("Role of Entrepreneurs in Disaster Reconstruction.")