JFS Newsletter No.139 (March 2014)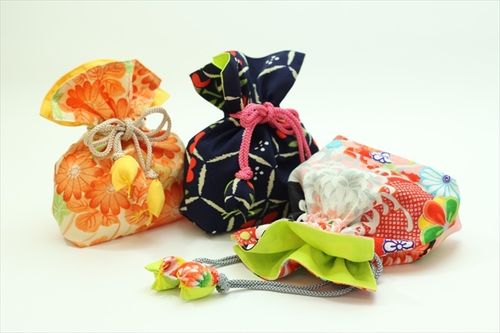 Copyright Watalis All Rights Reserved.
About 35,000 persons used to live in Watari Town, located about 26 kilometers south of Sendai City in Miyagi Prefecture. The Great East Japan Earthquake and the following tsunami on March 11, 2011 destroyed about 300 lives and the everyday livelihoods of the entire town. Every house in its costal neighborhoods was swept away and many residents are still forced to live in temporary housing. Its agriculture and fisheries, which used to support livelihoods in the community, have not recovered yet. A once bustling port has not been restored, and community bonds remain broken by the disaster.
Under these circumstances, various attempts have been made to help restore the town. One is a handwork project that sells bags made by local women. I interviewed Megumi Hikichi, representative of Watalis, a local group women organized in the wake of the disaster.
Junko Edahiro (JE): What does Fuguro mean?
Megumi Hikichi (MH): The word "fuguro" is the local pronunciation of "fukuro," the Japanese word for "bag." In this context, it means a double-drawstring bag made of kimono cloth with a liner. This kind of bag has been used traditionally to present a gift that expresses gratitude for a favor performed. Before the disaster, I worked for the town government as a curator of folk art and customs, and conducted a survey in Watari Town in which I learned that farm women used to sew 'mompe' - women's Japanese-style pantaloons - with kimono cloth until about 40 to 60 years ago. With remaining scraps of cloth, they sewed drawstring bags and put them aside to use when they needed to give a gift meant to return a favor.
Farmers would put rice or beans into the bag and give it to show their thanks or as a souvenir. I was impressed by this tradition of preparing to show appreciation. If you are prepared to show appreciation, it seems that you often encounter things to be thankful for. After the disaster, our Watalis group started producing these fuguro bags and selling them under the brand name "Fuguro."
JE: In traditional Japanese culture, people would carry a small packet of tissue paper with them to wrap around something to share, or a "pochi-bukuro," a small paper envelope for giving someone a cash present. Thus, they would always be prepared to show gratitude.
MH: Many volunteers visited Watari Town repeatedly after the disaster. Some of them told me "I am happy to hear people say 'Thank you,' or 'Take this as a token of my gratitude' when I come here." Hearing such comments, fuguro started to seem to me a symbol of our tradition of showing our gratitude with a physical gift."
JE: Every Fuguro bag is beautiful, isn't it?
MH: Made of used kimono cloth sent from throughout Japan, each Fuguro bag is original. Fuguro are made of gorgeous traditional patterns, classic-modern patterns from the early half of the 20th century, cute patterns for children, traditional splashed patterns, or quiet pongee. Each is a treasure which the customer can meet with once in lifetime. We use brand-new cloth for the bags' liners, so that customers can feel comfortable about using them.
JE: How did you decide to set up the Watalis project?
MH: After the disaster, demolition work started with flooded houses in the coastal areas and then moved on to the completely destroyed houses inland. One day I was invited to conduct a survey at old shops which had been closed for many decades; I was hoping to find some decent items to be conserved at our reference library.
One of the shops was a small dealer of kimono fabrics. Keeping the heavy demolition crew waiting outside to start work, we sought for suitable things. When I saw a pile of kimono cloth, "fuguro" flashed into my mind. I returned home with three garbage bags full of kimono cloth, and started to sew fuguro with my sister, my mother, and a friend of ours starting in autumn 2011, not long after the disaster.
At first we sold our Fuguro bags at bazaars and so on. A folklore scholar evaluated our activity and told us, "Selling culture as a commodity is a good way to communicate information on the local culture of gift exchanges as well as to pass sewing skills on to the next generation," and helped us by selling Fuguro at academic conferences. In time, Tokyu Hands, one of Japan's major household goods stores, started selling Fuguro as a way to support reconstruction of disaster-hit areas. Because our volume had increased, I resigned from the town office where I had been working for 19 years, and as of March 2012, one year after the disaster, I started working full-time on the Watalis project.
In April 2013, our organization acquired legal status as a general incorporated association, which authorized us to sign contracts with businesses. Since then we have extended our business partners not only to local department stores such as Sendai Mitsukoshi, but also to stores in Tokyo such as those belonging to the Marui group and to Odakyu Department Store.
JE: How do you make products that are high enough in quality to be sold in large department stores?
MH: When we planning to market Fuguro, we asked an instructor at a local sewing school to give us sewing lessons. I had met this instructor during my folklore research, and she told us that there used to be about 200 students in the sewing school in earlier times when fuguro were commonly used, and that these students normally learned to sew the clothes of their family members by the time they got married.
The instructor initially asked us "What sewing level are you aiming at? The teaching style differs according to the target level, specifically, for commercial products, bazaar items or presents." I intuitively replied, "Commercial products!" Thus, she gave us strict lessons.
JE: How do you get the materials for Fuguro?
MH: When we were running low on the rolls of kimono cloth that we first got from the old shop just before its demolition, we began receiving a lot of kimonos from people who had heard about or purchased Fuguro. They donated their kimonos to us. Many said that, even though they didn't wear them any more, they didn't want to throw their kimonos away or sell them cheaply. Sometimes people kept the kimono because it was formerly a family member's favorite. Many also added, "I'm happy if you use my kimono with memories and for a good cause." In this year alone, we received 200 to 300 cardboard boxes of kimonos, weighing a total of more than one ton.
JE: Who are making these Fuguro bags?
MH: Initially, I asked my friends and our sewing instructor to find people who were interested in making Fuguro, and I also placed an ad for homeworkers. Now, we have about 40 people, mainly in their 30's and 40's, who are serious about doing the work. Of those, twenty-some people regularly work at home while participating in a training workshop once a week. It takes a few months to master the skill, but many of them say that they are pleased to have the job because they can work even though they have children, or because they can find work near their family members after experiencing the disaster.
JE: It's great to create dozens of jobs. How are the bags made?
MH: The first process is to remove the stitches of the old kimono, then wash and iron the kimono cloth. This process is undertaken by those who are not yet good at sewing.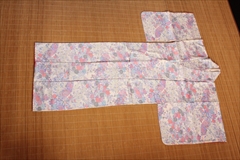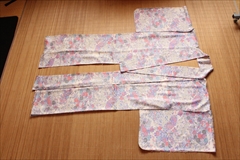 Copyright Watalis All Rights Reserved.
Secondly, our in-house staff cut the cloth and put together individual kits of materials, each of which consists of the outer material, lining and string, with a view to creating good color combinations. Receiving these kits, sewing workers make Fuguro. Skilled workers can make one bag in about an hour to an hour and a half. At present, however, our total monthly output is 300 bags at most.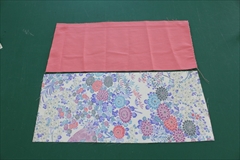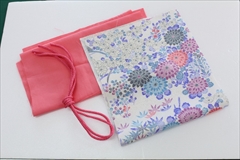 Copyright Watalis All Rights Reserved.
JE: Japanese kimonos are made of several strips of straight, uncut fabric which are simply stitched together. Just by removing the stitches, we can return a kimono to straight lengths of cloth. Formerly, it was quite common for people to take apart a kimono and remake it into another kimono or a child's kimono. When kimonos were completely worn out, people finally used them as cleaning rags or diapers. So, the old kimonos that you receive from various parts of Japan can be returned to cloth simply by removing the stitches, can't they? How many bags can you make from one typical kimono?
In the case of the largest size (36 x 32 cm) Fuguro bag, we can make five from one kimono. We use the remaining cloth to make small items such as hair accessories. Elderly women in this area say, "Do not throw away remnants of cloth that can hold even three azuki beans." They keep small pieces of cloth in preparation for whatever might come up. This must have been a common virtue in the past because such remnants were used to patch clothes.
They don't throw away left over thread, either. In the past, sericulture (silk farming) was a thriving business in this town. Many people grew up in families that were raising silkworms and spinning cocoons into thread. So, they know how much time and labor were required. In the past, mothers often wove cloth using home-grown silk thread and made kimonos as a dowry for their daughters. Those who received such kimonos cannot find it in their hearts to discard or sell them even though the kimonos may be worn out or it is very unlikely that anyone will wear them.
This is why we want to fully utilize small pieces of cloth as well as faded cloth. We are now learning a recycling weaving method called "saki-ori," literally "torn and woven," and have recently been marketing small pouches made of this recycled cloth. We want to use up materials without waste.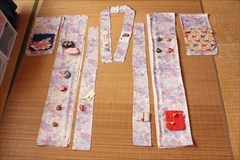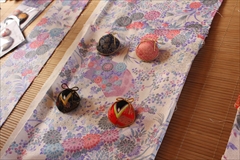 Copyright Watalis All Rights Reserved.
JE: Using up something is how to realize the Mottainai spirit of Japanese culture, isn't it?
MH: When we spoke to people who lived in those days, they said, "In the past, farmers in particular had no cash income, so it was more economical to produce clothes at home. But as the Japanese economy has grown, more and more people think that it is better to work outside and buy things instead of expending the time and effort to make them at home. Before we knew it, homeworkers faded out." Somehow it seems strange, doesn't it?
JE: How would you like to promote this activity further?
MH: I would like to study design and teach others in a systematic way. I would like to learn about management. We are focusing on women's independence, dissemination of traditional culture, reconstruction of the disaster zone by local residents, rediscovery of the wonderful Japanese aesthetic sense as seen in kimono materials, and the culture of reuse and recycling. I think we should also be creative in the way we inform others about our activities.
Our goal is to give bonuses to homeworkers. Of course, customers are important. And, our homeworkers are important too. When Fuguro bags sell well in department stores, we all feel happy, and our homeworkers say that this makes them feel that both their work and they, themselves, are valuable. Of course it is important to work and earn money, but it makes me particularly happy when they say that they feel they can do more and indeed can accomplish anything if they do their best.
We also hold gatherings that welcome everyone. At these events, people enjoy making relatively simple crafts and many people join us every time. It brings together people living in the same town but unknown to each other, and people from different generations talk with each other and begin friendships. I am pleased to report that some people come from different prefectures, especially from Fukushima Prefecture, or even from other countries. I was delighted to hear one old lady in the neighborhood say, "I come here, laugh, and go back home feeling younger."
On afternoons when a gathering is not being held, we use the space as a kind of open house or salon. Some people come in to work on their unfinished crafts, and there is an elementary school near here, so the children of mothers who work at Watalis drop by and wait for their mothers, doing their homework and so on. Watalis has been managed on subsidies for the last two years, but I hope we can continue project without subsidies in the future.
JE: Do you think that it was a good idea for you to resign from the town office to concentrate on Watalis?
MH: I feel as if I have been doing this work for decades. When I was employed by the town office, I worked hard and enjoyed it. Now I feel I am working five times more than before. I am living my life to my fullest.
I want to make everyone's dreams come true. I want to realize my own dream, too. When you live in a rural area, you tend to avoid risks such as dabbling in new businesses or making friends with strangers. To try to realize your dream is something not easily accepted by others here. I was born and raised in Watari Town, and everyone told me, "You are safe as long as you stay here." Before the disaster occurred, I had only enough courage to go as far as to Sendai.
JE: But now your Watalis project is about to sally forth into the world.
MH: Yes. We have, though little by little, more opportunities to sell our products overseas through JETRO or at antenna shops such as the MONO Shop in Bangkok. We also would like to improve our mail-order system for individual sales. I want to let people in the world know about Japanese culture, including presenting your gift in a Fuguro bag.
JE: JFS is also going to help you! Thank you so much.
Written by Junko Edahiro