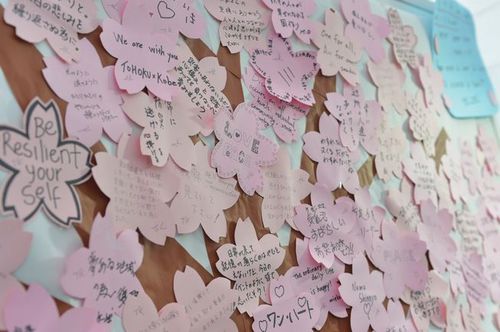 Copyright Japan Civil Society Organizations Coalition 2015 WCDRR All Rights Reserved.
The Japan Civil Society Organizations Coalition 2015 WCDRR (JCC2015) delivered a declaration on March 17, 2015, entitled Dreams for 1,000 Years, at the Global Conference on Disaster Risk Reduction for Civil Society. The conference was planned and organized by JCC2015 alongside the United Nations World Conference on Disaster Risk Reduction (UN WCDRR). The declaration was a compilation of messages collected from over four thousand citizen participants, looking into the future one thousand years from now.
Dreams for 1,000 years
http://jcc2015.net/wpJCC/wp-content/uploads/2015/03/08e07e0ef3f4ff71f7a63eae3bd64aeb.pdf
Margareta Wahlström, the UN Secretary-General's Special Representative for Disaster Risk Reduction, joined the main event at the JCC2015 conference. Her message to the citizens, which she thread through a gap in the difficult discussions at the UN WCDRR meeting, of which she was a representative, embodied a wave of hope placed on the power of the people.
Meanwhile, JCC2015 published a booklet called "10 Lessens from Fukushima: Reducing risks and protecting communities from nuclear disasters," which outlines the realities of the Fukushima nuclear disaster from the perspective of local people. This booklet is published in five languages: Japanese, English, Korean, Chinese, and French. The 1,000 available copies of the English version quickly sold out at the conference, when the chairperson of the UN conference recommended the booklet, saying, "An amazing book. I hope you will read it." Given that JCC2015 has already received inquiries about translation of the booklet into Italian, Hindi, and Arabic, the book will likely prove a useful tool for conveying to the world the lessons learned in Fukushima following the Great East Japan Earthquake.
10 Lessons from Fukushima
http://fukushimalessons.jp/en-booklet.html