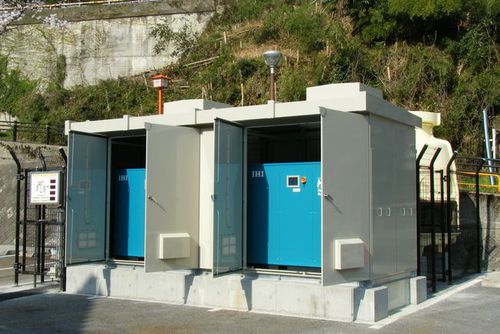 Copyright Shinonsen Town All Rights Reserved.
Shinonsen Town in Hyogo Prefecture in central Japan completed construction of a binary-cycle power generation system using the thermal energy of the hot springs in Yumura Onsen, a resort town nestled in a mountainous area of the prefecture on April 10, 2014. The system was installed at the town's disaster evacuation facility, the first of its kind in the nation, financed through Japan's Ministry of the Environment's renewable energy promotion fund, called the Green New Deal Fund.
The stand-alone, off-grid power generation system can power lighting and a hot water heater, thereby ensuring ongoing operation during power outages in the event of natural disasters. It will produce around 90,000 kilowatts-hours annually, equivalent to the annual power consumption of 25 households.
The prefecture plans to increase its renewable energy capacity by one million kilowatt-hours by the end of fiscal year 2020, and is promoting projects that tap into the strengths of various regional characteristics.