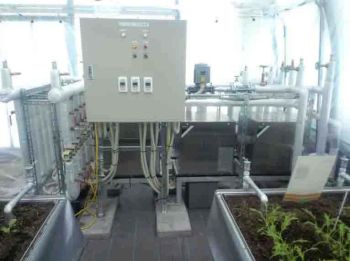 Copyright Niseko Town All Rights Reserved.
Niseko, a town in Hokkaido, Northern Japan, is becoming as energy independent as possible by using renewable energy, especially geothermal heat. An experiment at Niseko high school on greenhouse cultivation using a geothermal heat pump in March 2012 proved its promising results, and the geothermal greenhouse heating at the school allows to grow vegetables year-round without relying on fossil fuels, bringing increased productivity and positive effects on the local economy.
Geothermal heating systems are not limited to greenhouses; they are seen in the town's community center, the oil-fired central heating system of which was replaced with a geothermal-heat-pump air conditioning system in 2012, the local FM radio station, and Arishima Takeo Memorial Museum (a museum to honor the famous Japanese writer from the Taisho period (1912-1926), who subdivided his land to peasants, allowing them to farm and make a living for themselves, free of rent). Geothermal heat pumps have also been installed in local high school greenhouses.
Rich in nature, Niseko has been actively exploring how to harness renewable energies such as micro hydropower, snow-ice cryogenic energy (such as utilizing cold air from snow and ice for chilling or air conditioning), photovoltaic power, and geothermal heat. Among them, geothermal heat is quite promising, as the underground temperature maintains a stable temperature throughout the year in Niseko, averaging 11 degrees Celsius, while the average air temperature is 8 degrees. Using a geothermal heat pump makes it possible to cut carbon dioxide emissions to one third of those emitted by an oil-fired boiler.
The town is considering the installation of solar power and geothermal heating systems in a new town hall building, as well as in other public facilities to be newly constructed or renovated in the future.