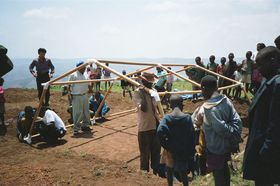 Photo by Shigeru Ban Architects
All Rights Reserved.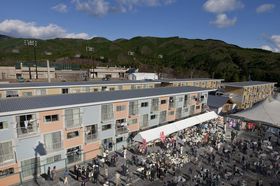 Photo by Hiroyuki Hirai
All Rights Reserved.
The Hyatt Foundation of the United States, which sponsors the Pritzker Architecture Prize, announced on March 24, 2014, that Shigeru Ban, a Japanese architect, received the 2014 Pritzker Prize. As the highest honor among architects, every year the Pritzker Prize honors an architect who has greatly contributed to humanity and the built environment through the art of architecture. The prize recognized Ban's many years of humanitarian effort using the same innovative design approach as his elegant design of private residences and cultural facilities.
Ban is known for his unique method of employing economical and recyclable materials in construction, such as bamboo, paper, and recycled paper. For 20 years, he has traveled to disaster-hit sites around the world to build temporary housing with local residents and students.
His humanitarian work began in 1994 when he proposed building paper-tube shelters for refugee camps in Rwanda to the United Nations High Commissioner for Refugees, which then hired him as a consultant. Following the Great East Japan Earthquake in 2011, he proposed and built at evacuation centers simple paper partition systems designed to protect disaster victims' privacy, and three-story temporary housing using transportation containers.