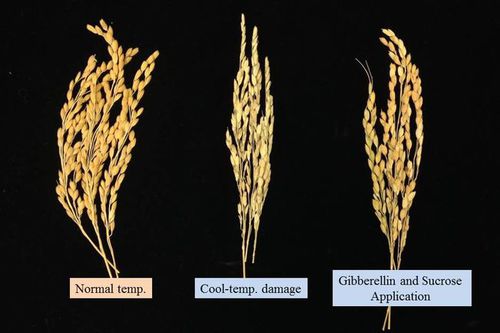 Copyright Tohoku University All Rights Reseved.
A research group studying genome inheritance led by Professor Atsushi Higashitani of the Graduate School of Life Sciences at Tohoku University announced on February 27, 2014, that they have successfully suppressed the reduction of grain yield under low-temperature environments, after elucidating the mechanism responsible for cool-temperature damage in rice. They conducted a study in cooperation with Miyagi Prefectural Furukawa Agricultural Experiment Station, Nagoya University, Riken, and the National Agriculture and Food Research Organization.
Cool-temperature damage in rice occurs when moderate low-temperature environments (approximately under 20 degrees Celsius) disrupt normal pollen development and inhibit seed-setting, even if the rice is full-eared. The research group analyzed the expression variation of entire genes in the anther cells during pollen development.
They confirmed that the expression levels of gibberellin biosynthesis genes decrease in the developing anthers by exposure to low temperatures. Gibberellin is a plant hormone that positively regulates the cell elongation, division and proliferation, and the development and differentiation of tissues or organs. Cool temperature damage was thus caused by a decrease in endogenous levels of gibberellin of the anthers, which adversely affected the proliferation of sporogenous cells and the development of anther wall cells.
The research group administered the exogenous application of gibberellin to the test plants at the time of rice pollen development, while simultaneously applying sucrose, and demonstrated the restoration of pollen development and seed set, even in low-temperature environments.
The study results were published online by Plant Physiology on February 25, 2014.