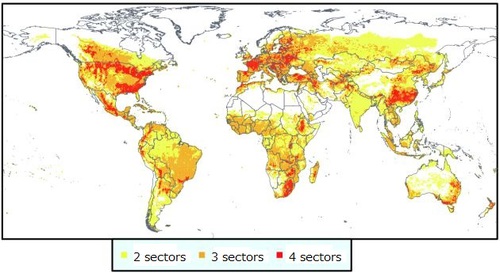 Copyright University of Tokyo All Rights Reserved.
The Institute of Industrial Science at the University of Tokyo announced on December 26, 2013, a new study of climate impact projections in the water, agriculture, ecological, and human health sectors, based on the findings of the Inter-Sectoral Impact Model Intercomparison Project (ISI-MIP).
ISI-MIP is an international research effort aimed at assessing climate change impacts. It has developed a comprehensive analysis of impacts in four sectors: water resources and disasters, agriculture and food production, terrestrial ecosystems, and human health (malaria). The analysis was conducted by applying climate conditions projected by five climate models under four future scenarios into 35 impact assessment models.
As a result, the project identified several regions--including the southern Amazon basin, southern Europe, Central America, and east Africa--as multi-sectoral hotspots, regions that face the risk of severe global warming impacts across multiple sectors. It has also projected that rising temperatures will expand the size of regions currently classified as having chronic water scarcity and increase populations who will suffer from water shortage.
ISI-MIP is the world's first impact model inter-comparison effort related to climate impact assessment. The project has been led by the Potsdam Institute for Climate Impact Research in Germany and is joined by 40 research institutions from thirteen countries including the University of Tokyo and the National Institute for Environmental Studies in Japan.