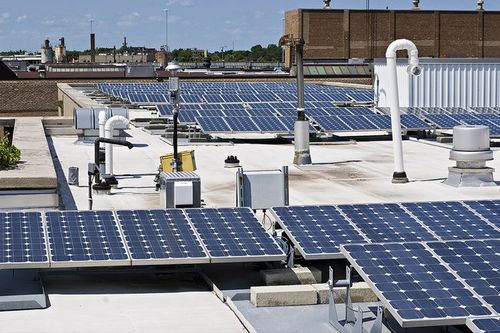 Image by Seth Anderson Some Rights Reserved.
Satsuma Shizen Energy Co. is a joint venture established in 2012 by small local businesses, the municipal government, and a private school in Ichikikushikino City, Kagoshima Prefecture. The company aims to help revitalize the local economy and create a green city through community-driven adoption of renewable energy.
The company installs photovoltaic (PV) power generation systems on the roofs of factories and offices, sells all of the generated electricity to a utility company, and pays part of the income from selling power as a rental fee to the rooftop lenders. After the project term of 12 years ends, the company will transfer ownership of the system to the lender for free. The company started selling power on July 1, 2012, and is currently operating PV systems with a combined capacity of about 2,700 kilowatts as of October 2013.
Making use of a joint purchase system and public subsidies, the company also provides a low-cost rooftop installation service for general customers. It also connects customers with local PV installers, aiming to revitalize the local economy through the diffusion of renewable energy.
Since the company has made use of civic funds to raise capital, citizens are counted among the company's shareholders. Dividends are paid not only in cash but also in local specialty products. About 38 million yen (about US$369,000) had been collected as of July 2013.