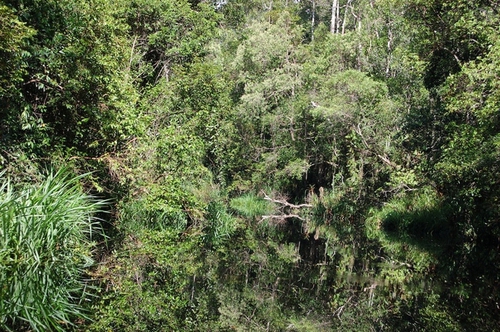 Image by CIFOR. Some Rights Reserved.
Hokkaido University announced November 21, 2013, the results of a long-term monitoring study of carbon dioxide (CO2) emissions from tropical peatlands, the world's first such CO2-emission monitoring effort. It was a joint project by the Japan Science and Technology Agency, Japan International Cooperation Agency, and Indonesia's University of Palangka Raya.
Tropical peat swamp forest is a treasure of biodiversity and one of the largest existing carbon reservoirs on Earth. The study found that fires in peatland forest cause not only loss of a variety of precious biota but also result in enormous CO2 emissions, increasingly linked to worsening climate change.
Over four years (2004 to 2008), researchers from Hokkaido University measured CO2 flux in three different biological systems in Indonesia, selected according to land-use type: a pristine swamp forest, a drained swamp forest, and a swamp forest that had been burned by fire after being drained. The researchers were able to conduct continuous measurement of CO2 emissions from microbe decomposition in the burnt forest area after it was drained.
As a result, the researchers were able to prove for the first time that CO2 is continuously emitted from each of these ecological systems; that an increase in environmental disturbance produces increased CO2 emissions; and that the largest emissions occur in years of El Nino (drought years).
The researchers found that the amount of peatland CO2 emissions can be accurately estimated by measuring groundwater levels, and combined with analysis of satellite data produced findings that should allow for better carbon management planning. It is hoped that the research method developed through the project will be useful for designing future carbon-offset systems.