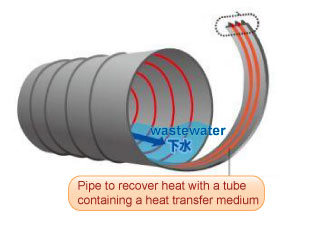 Copyright Sendai City All Rights Reserved.
Sendai, Miyagi Prefecture in northern Japan, has launched jointly with Sekisui Chemical Co. a demonstration project to test the use of heat energy recovered from sewage, according to an announcement by Mayor Emiko Okuyama on November 12, 2013.
Under this project, a heat recovery function will be added to existing sewer pipes. Specifically, a strip of reinforcing material, as well as tubes containing a heat transfer medium, will be spirally wound around the inner wall of pipes. Installation can be performed during seismic retrofitting of the sewerage system. In this project, recovered heat will be used in an adjacent commercial building.
Wastewater is warmer in winter and cooler in summer than the outside air, and many sewer networks exist in urban areas where the demand for heat is high. Thus, sewage is expected to be used as a heat source for hot-water supply, as well as in heating and cooling. In Japan, previous initiatives to recover sewage heat have mostly been conducted near large-scale facilities such as sewage treatment plants or pumping stations.
The city intends to verify the energy efficiency and costs of the system, and consider a future scheme, including fees to be charged, until the project ends in March 2015. Sekisui Chemical, on the other hand, aims to contribute to overcome social challenges, such as sewer rehabilitation, seismic retrofitting and energy saving, by spreading technologies to be developed in this project throughout Japan.