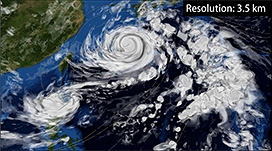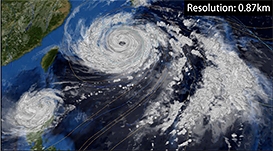 Copyright RIKEN All Rights Reserved.
A team of researchers from the RIKEN Advanced Institute for Computational Science (AICS) in Kobe, the Japan Agency for Marine-Earth Science and Technology, and the Atmosphere and Ocean Research Institute of the University of Tokyo announced on September 20, 2013, that it has succeeded in conducting a new stunningly precise simulation of cloud field using a high-resolution atmospheric model. The simulation, based on the K computer, uses grids spaced less than 1 kilometer apart and covering the entire world.
Previous simulations had a resolution of just 3.5 kilometers at best. Development of more accurate predictions for atmospheric conditions has been long awaited.
The results of this joint research will enable more accurate analysis of thunderclouds and will shed light on the mechanism that generates cumulonimbus clouds, which wreak enormous damage in the form of torrential rain and tropical storms. With the results, study of the impacts of clouds on climate and more accurate weather forecasting including disaster planning are expected to move forward.