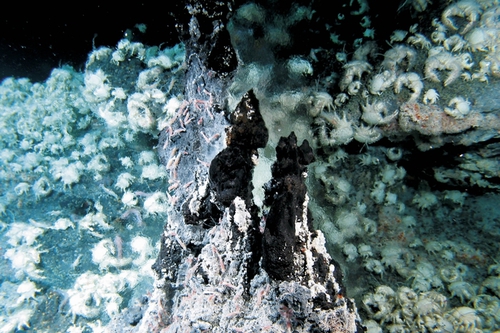 Copyright Agency for Marine-Earth Science and Technology All Rights Reserved.
Japan Agency for Marine-Earth Science and Technology (JAMSTEC) announced on September 3, 2013, that they successfully generated electricity in fuel cells using hot water and seawater as fuel, in cooperation with RIKEN, Japan's comprehensive scientific research institution for basic and applied science, at the artificially constructed hydrothermal vent on the deep seabed in the Okinawa Trough.
As a power generation method that does not rely on fossil fuels, the technologies necessary to use marine energy sources to generate electricity has been progressing and gaining attention in the development of marine resources. Hot water vents in the seabed contain materials such as hydrogen sulfide, which discharge electrons, while the seawater around the hydrothermal vents contains materials such as oxygen, which receive electrons. JAMSTEC and RIKEN have focused on the potential differences between hot water and seawater, and have built fuel cells by placing an electrode in the artificial hydrothermal vent and another in the surrounding seawater to generate electricity.
For power generation methods in active hydrothermal areas on the seabed, the use of temperature differences and steam power have been researched. As this new method is able to generate electricity uses a simpler mechanism and is corrosion resistant, it is likely to be more suitable for stable and self-sustaining power supply.
In the future, after confirming the long-term durability of the device, this technology is expected to be an important option for long-term on-site power supply in deep-sea hydrothermal areas, where research and development activities are underway.