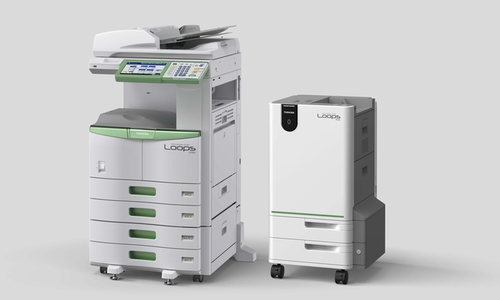 Copyright Toshiba Tec Co. All Rights Reserved.
Japan's Ministry of Economy, Trade and Industry (METI) announced on September 18, 2013, the winners of the METI Minister Award in Green IT Awards 2013. A new data center developed by Nomura Research Institute, Ltd. won the award in the "Energy saving of IT" category, while Toshiba Tec Corporation's "Loops" paper reusing system was similarly recognized in the "Energy saving by IT" category. This was the sixth year of the Green IT Awards since the program's inception in 2008.
Toshiba Tec Co. succeeded in reducing CO2 emissions by about 50 percent by reusing paper after erasing text and images with its newly developed erasable toner. The technology, which also automatically digitizes content during erasure, was recognized for its help in realizing more environmentally friendly and flexible work styles.
The two companies figure among eight award winners in total, including a team led by NEC Corporation for its energy visualization and smart distribution technologies for convenience stores, and a team led by Fujitsu Ltd. for its modular data center which utilizes renewable energy.