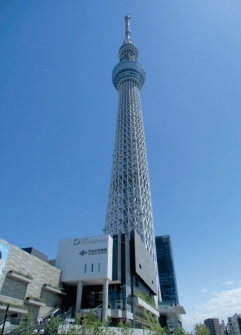 Copyright TOKYO-SKYTREETOWN All Rights Reserved.

Two Tokyo-based companies--Tobu Railway Co., a major private railway operator, and Tobu Energy Management Co., a Tobu Railway group company--announced on August 27, 2013, the energy saving and carbon dioxide (CO2) emissions reductions achieved through a district heating and cooling (DHC) system introduced in Tokyo Sky Tree Town (a commercial complex), and nearby buildings and facilities. The results are for one year beginning May 22, 2012, when the town opened. Tokyo Sky Tree Town consists of the Tokyo Sky Tree, a 634-meter-tall broadcasting tower (the world's tallest free-standing steel tower as of 2012, when the tower was completed), nearby sightseeing and commercial facilities, and office buildings.
The DHC system achieved an overall annual energy efficiency rate (coefficient of performance) of 1.362, the highest level ever obtained by any other DHC system in Japan. The system's annual primary energy consumption and CO2 emissions were dramatically reduced by about 44 percent and 50 percent, respectively, compared to individual heating and cooling systems.
The companies attribute the achievement of Japan's highest-level energy efficiency and CO2 emissions reductions to the following factors: the introduction of highly-efficient large chillers and heat pumps, which can save energy and reduce CO2 emissions; the installation of a high-capacity water thermal storage tank, which can store about 7,000 tons of water; Japan's first application of a ground source heat pump for the DHC system; and a systematic constant-rate operation of the heat source equipment.