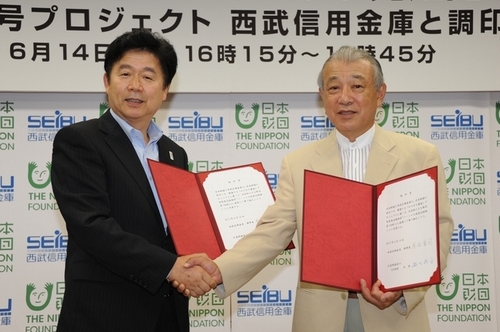 Signing Ceremony between Seibu Shinkin Bank and Nippon Foundation
Copyright Nippon Foundation All Rights Reserved.

The Nippon Foundation launched on June 14, 2013, the "Wagamachi Fund" project ("My Hometown Fund" in Japanese), a fund designed to help nonprofit organizations, social entrepreneurs, and social businesses in cooperation with local financial institutions such as credit unions. Based on the concept "creating and supporting local futures locally," the project will aim to generate new cash flow for solving social and local problems.
The project team will establish a social growth support loan (tentative name) with Seibu Shinkin Bank (Nakano Ward, Tokyo), the project's first partner. As Japan's first comprehensive loan for supporting social growth, money will be lent at low interest rates without collateral (in principle) from a total asset pool of 500 million yen (about US$5.1 million) provided by Nippon Foundation grant funding and Seibu Shinkin Bank's contributions.
The project team will also provide a management support program to give advice to loan recipients about the management of their organizations, as well as subsidies to promote their activities. By giving both financial and management support, the team will aim to create a synergistic effect for solving problems.
As part of reconstruction support for areas struck by the Great East Japan Earthquake, the Nippon Foundation plans to carry out the project with four other credit unions in Iwate, Miyagi, and Fukushima prefectures by autumn 2013.