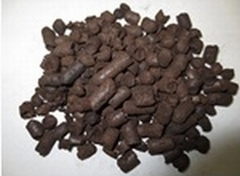 Copyright Nippon Paper Industries Co.
All Rights Reserved.
Nippon Paper Industries Co., a major paper manufacturer in Japan, announced on April 3, 2013, that it had developed a new biomass solid fuel using torrefaction, as a project (practical application) under the Strategic Development of Next-Generation Bioenergy Utilization Technology adopted in fiscal 2011 by the New Energy and Industrial Technology Development Organization (NEDO).
By carbonizing at a relatively low temperature, torrefaction, also known as semi-carbonization, allows woody biomass to retain more stored heat compared to normal carbonization. The new biomass fuel is formed into pellets, and consequently has less volume than woody chip fuels, leading to improved transportation efficiency. In fuel manufacturing using torrefaction technology, however, it is necessary to carefully control the processing temperature and meet other requirements. Therefore, establishing techniques to make use of torrefaction in the manufacturing of biomass fuel has been difficult.
Co-firing was tested in a pulverized coal boiler at Nippon Paper's Yatsushiro Mill, and as a result, it was possible to mix 25 percent (as a weight ratio) of the new biomass solid fuel with the coal under the maximum load of the boiler. Testing confirmed that there are no problems with the operability of the coal pulverizing mill or with the boiler combustion.
The new biomass solid fuel is able to retain about 90% of its stored heat, whereas normal carbonization yields 50 percent or less. In addition, the new biomass solid fuel may have better crushability and water resistance, and may significantly improve the co-firing rate of biomass in a pulverized coal boiler.