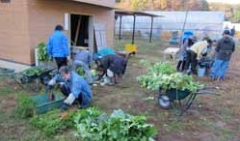 Copyright Machida City
Machida City in the south of the Tokyo Metropolitan area announced on March 26, 2013, that three corporations, including a non-profit organization and an agricultural corporation, would start a farming business in April 2013 using unused land in Machida City, by means of a municipal service to facilitate the matching of unused agricultural land and a workforce motivated for agriculture. This is the first time in the Tokyo Metropolitan area that an NPO or agricultural group has rented farmland with help of a municipal matching service activity.
Machida City, which has a problem with the expansion of unused land caused by aging farmers and fewer workers for succession, launched in May 2011 a service to help those who want to start an agricultural business find land in non-urbanized areas, aiming to keep traditional rural landscapes in Machida and to accept newcomers engaged in agriculture.
The three groups that started agriculture businesses in Machida in April were Wago Agricultural Corporation, Kewpie Ai Co. (specially approved subsidiary) and the non-profit organization Tagayasu. The unused land each of them is renting covers from 4,000 to 5,700 square meters respectively.
Related JFS article:
Rental Organic Farm Provides Farmland for Housing Development Project
Unique Community Farm Management in Kamiina District Shifting Focus from Owning to Using Farms