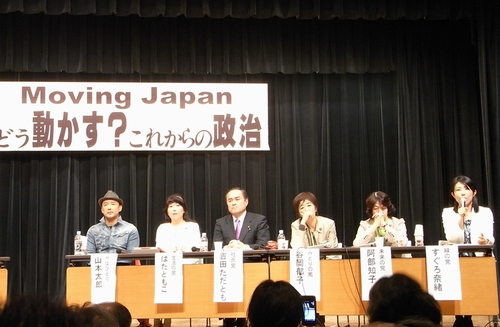 In preparation for Japan's upcoming Upper House election in the summer of 2013, a symposium titled "Moving Japan, How to move future politics?" was held in Tokyo on April 22, 2013, to promote cooperation among groups working towards denuclearization, opposing the Trans-Pacific Strategic Economic Partnership (TPP), rectifying economic disparity, and promoting peace.
In the Lower House election in 2012, so-called liberal parliamentarians suffered a major defeat, while the coalition government of the Liberal Democratic Party and the New Komeito Party was revived to form a majority. The April symposium was organized mainly by citizens and politicians at local governments who were alarmed by the moves of the current government, which is advocating for not only resumption of operations at nuclear facilities but also construction of new nuclear plants.
The six panelists, consisting of incumbent parliamentary members from various factions and politicians at the local government level who had decided to run in the next Upper House election. All agreed on the need for legislation to institutionalize a denuclearization policy. In light of the fact that in the Lower House election in 2012, people's votes for change in the nation's nuclear policy were fractured by an upsurge of political parties that had a goal of denuclearization, they generally agreed that a nonpartisan alliance was essential, but they failed to find ways for specific cooperation in the two-hour discussion.
The current ban on the use of the Internet-in election campaigns will be lifted starting with the next Upper House election. Some of the panelists said that web-based social networking services (SNS) would play a major role and asked the audience to work together to change the political situations, leaving the impression that to change the situation, every individual citizen's participation would be important, across all party lines.