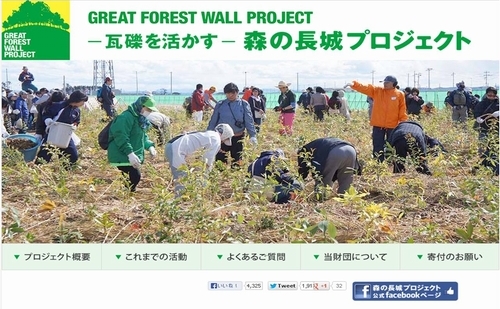 In the spring of 2013, two years after the Great East Japan Earthquake, work has gotten underway to make use of earthquake and tsunami debris to build a natural seawall in the disaster area. The so-called "Great Forest Wall Project" is an effort to protect lives from future tsunamis by mixing disaster debris with soil to form an embankment along the Tohoku coastline and planting various types of broad-leaf trees along its top.
Before the disaster, mostly pines had been planted along the Japanese coastline, as they are tolerant of salt breezes and grow quickly and easily in poor soil. However, having a low soil-retention strength, the pines were knocked down from the roots by the March 2011 tsunami, setting them free to drift and smash into houses.
The trees that remained standing after the tsunami near the coast of the disaster sites were predominantly broad-leaf trees such as laurels and oaks. By planting a forest made up of a variety of native trees, the Great Forest Wall Project aims to build a green seawall that will reduce the force of tsunamis and prevent people and personal possessions from drifting out into the ocean in an ebb tide.
Non-hazardous debris is selected and then mixed with soil to build an embankment for a plantation, increasing the height of the forest and thus enhancing its tsunami control capabilities. The plan is to plant 90 million trees and extend the Great Forest Wall for 300 kilometers along the Pacific coast from Aomori Prefecture to Fukushima Prefecture. So far, about 12,300 trees have been planted, with tree planting being conducted by volunteers.
Related JFS article:
Plant Native Trees, Recreate Forests to Protect the Future: Respected Ecosystem Scientist Akira Miyawaki