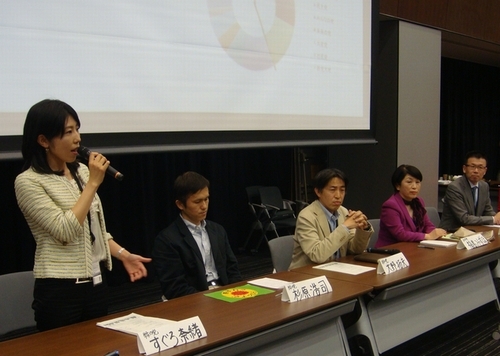 Copyright Green Tea Party

The Political League for Denuclearization, also known as the Green Tea Party, was founded by volunteer citizens as a political group that supports politicians who aim to realize denuclearization, and held its first meeting on April 24, 2013, in Tokyo. This is the first organization of its kind in Japan.
The Green Tea Party is not a political party and thus does not put up its own candidates. It selects other candidates (individuals or parties) intending to realize denuclearization and then supports the candidates during the election campaign, including raising funds and preparing voters' lists, in order to help their chosen candidates win in national elections. At the same time, the Green Tea Party aims to influence the legal system to realize denuclearization by proposing actions toward a denuclearization policy.
Some of the promoters of the group and its recommended candidates who attended the start-up meeting suggested that in conventional citizens' movements, there were few opportunities to discuss politics with people close to us. They see this group as a first step to talk about politics among citizens. Others noted that the financial support required to stand for election is much higher than in other countries, and want to improve election system itself.
Hideaki Takemura, a representative of the group, spoke with enthusiasm for the election for the House of Councilors in summer in 2013, saying that the political landscape would not change as long as the forces for denuclearization remain separated, and aiming to develop a political shift toward denuclearization by uniting the citizens' power.
Related JFS article:
"Nuclear-Free Economics" Campaign to Revitalize Economy Launched
Community Power Revolution Spreads in Japan
Japan's Diet Members' Nonpartisan Alliance Established to Assist Nuclear Accident Victims