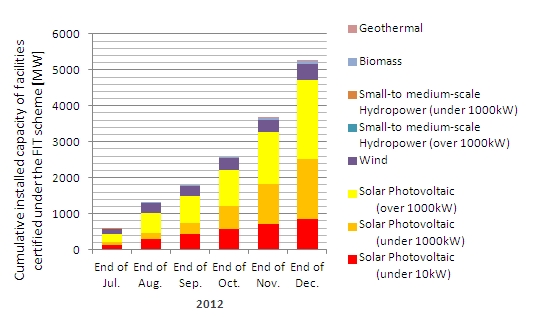 Current Status of Facility Certification in the Feed-in-Tariff Scheme;
Prepared by ISEP based on METI data as of December 2012

Japan's Ministry of Economy, Trade and Industry (METI) released on March 29, 2013, a new buyback price for renewable energy under the Feed-in-Tariff Scheme for new entrants in fiscal 2013. For commercial solar power generations that generate more than 10 kilowatts, the price has been reduced to 36 yen (about 38 U.S. cents) per 1 kilowatt-hour from 40 yen (about 43 U.S. cents), excluding tax, regardless of capacity. The price for other energy sources remain unchanged from the previous fiscal year.
According to the data announced by the Procurement Price Calculation Committee, the body that has been discussing the buyback price, construction costs for large-scale facilities with an output of more than 1,000 kilowatts have decreased. On the other hand, it is obvious that unit price of construction costs for those with an output of less than 1,000 kilowatts are relatively high. In the public comments, some proposed setting the price based on the scale of generation facilities, but the decision was deferred. There is concern that local citizens and small-medium companies will face unfair competition from large-scale operators when they start new business.
Among the facilities certified as of the end of December 2012, solar power generations account for nearly 90 percent of total capacities (approximately 5 million kilowatts). Of these, mega-solar power generations with more than 1,000 kilowatts account for 40 percent, thus demonstrating that large-scale generation facilities are taking the lead. For wind power, small-scale hydropower, and geothermal and biomass production, which remain rare, regulatory reforms and improvements in the procedures remain urgent challenges.
Written by Hironao Matsubara, Institute for Sustainable Energy Policies
Related JFS article:
Japanese NPO Expands Residential Solar Co-Ownership Project
Japanese Economy Ministry Unveils Time Schedule for Electricity System Reform