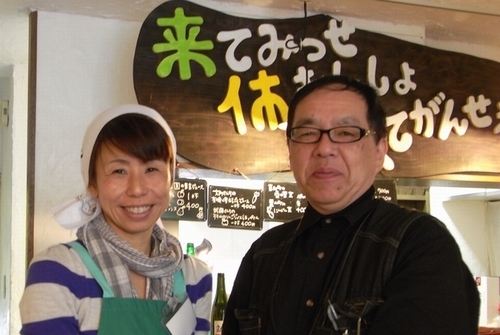 Mr. Noboru Saito (right) and Ms. Naomi Abe, the store manager

On March 16, 2013, two years after the Great East Japan Earthquake, "The Community & Organic Cafe Fukushima Organ-Do Shimo-Kitazawa" was opened in Setagaya, Tokyo, and features local dishes prepared using vegetables and rice grown in Fukushima Prefecture.
The Fukushima Organic Agriculture Network, a non-profit organization to promote organic farming in Fukushima, is in charge of the cafe management. Organic farmers in Fukushima were hard hit after the earthquake, but they are proving that contamination of their farm produce by radioactive materials is extremely low, as a result of their efforts of soil improvement and continued testing for radioactivity. All the food provided in the cafe is measured for radioactivity, and the results are displayed for customers' peace of mind.
Noboru Saito, the executive director of the network, said that they have been putting much effort into selling farm produce from Fukushima via the internet or at charity events in the Tokyo metropolitan area since just after the earthquake, and these efforts developed into a network to open this cafe. As evacuating families were separated in the aftermath of the earthquake in Fukushima , he hopes that the cafe will help reconnect many of those separated.
Fukushima Organ-Do also sells seasonal farm produce and processed products. They are hoping to disseminate farm culture from the cafe, connecting those who evacuated from Fukushima, as well as people in Fukushima and Tokyo.
Related JFS article:
After Rio+20 -- How to Deliver the Voices of Civil Society to Decision-makers?
Project Started to Support Disaster-Stricken Farmers and Fishermen