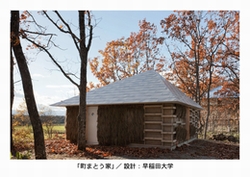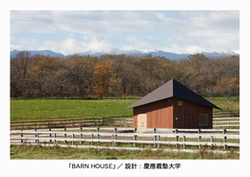 Left : A recipe to live by Waseda University / Right : Barn House by Keio University
Copyright LIXIL JS Foundation

The LIXIL JS Foundation, established to improve techniques and sound development in Japan's housing and construction materials industries, announced on November 19, 2012, that the grand prize-winning works at architectural competitions held in 2011 and 2012 had completed construction in Memu Meadows, a facility for studies on environmental technologies in Taiki-cho, Hokkaido.

The competition for 2011 was held under the following theme; "What types of house can we build after experiencing the Great East Japan Earthquake? Call for proposals on feasible houses for the new era of post-earthquake." The grand prize was awarded to "A recipe to live," which utilizes pastures, designed by students such as Masaki Ogasawara and other students of Waseda University. The fermentation heat generated by drying pastures is utilized to warm the house.
With competitors from 12 universities in nine countries, the competition for 2012 was held under the theme of "Next Generation Sustainable House in Taiki-cho; Sustainable houses in cold areas to be passed on to the next generation." The grand prize went to the Barn House designed by Katsuhito Komatsu and other students of Keio University. The house, with the concept of living with horses, utilizes compost heat generated by horses manure and metabolic heat produced by the horse.
The two teams intend to continue to conduct verification experiments for the benefit of creative, next-generation sustainable houses. LIXIL JS Foundation and Taiki-cho plan to provide continual support to the teams, aiming at reporting the outcomes of the experiments.
Furthermore, the competition for 2013 started under the theme of "Retreat in Nature". 12 universities from eleven countries applied for the competition; same as the former competitions, the grand prize winner will construct the house in Taiki-cho.
Related JFS article:
Taking Advantage of 'Wind Catcher' Effect in Experimental Home Improves Ventilation by 10 Times
LIXIL Launches New Shower that Reduces Water Use by 48%
Company, University Begin Experiments to Cool Solar Cells for Improving Efficiency