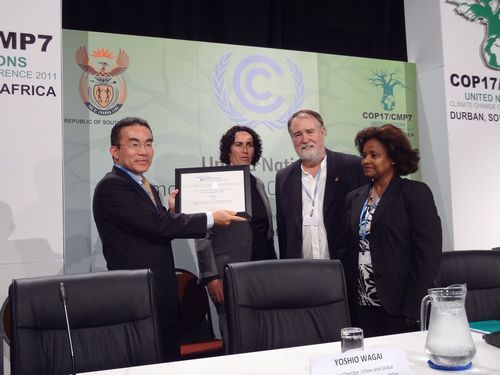 Copyright Tokyo Metropolitan Government

On December 6, 2011, the Tokyo Metropolitan Government announced that it had received the Government Leadership Award from the World Green Building Council (WGBC), an international organization of national Green Building Councils around the world. Green Building Councils promote sustainable buildings in their countries.
The Government Leadership Awards were newly established this year by WGBC to award local governments that are making active efforts in the areas of low carbon city development and buildings, etc.
Tokyo received the award in recognition for its cap-and-trade program including office buildings, the first such program in the world, as the "most ground breaking policy." Covering more than 1,300 business facilities, the program aims to reduce a large amount of carbon dioxide emissions from buildings.

Posted: 2012/02/20 06:00:15 AM