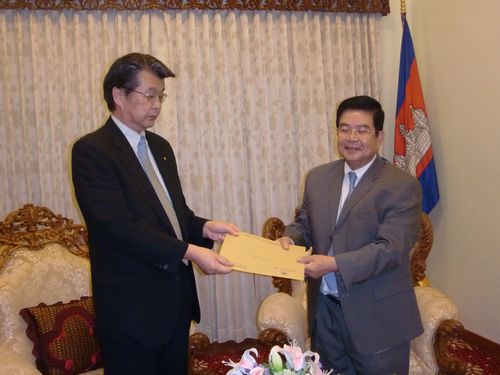 Chief of the WBCK (left) and the Minister of Industry, Mines and Energy of the Kingdom of Cambodia,
exchanging memorandums : Copyright WBCK

The Waterworks Bureau of the City of Kitakyushu (WBCK) in Japan exchanged a memorandum with the Ministry of Industry, Mines and Energy of the Kingdom of Cambodia (MINE) on August 26, 2011, regarding a safer water supply project in Sen Monorom City of Mondul Kiri Province in Cambodia. WBCK aims to provide various consulting services for the project, including basic planning and construction management.
Cambodia, which ranked its water project as the highest priority in re-establishing infrastructure damaged during its long civil war, previously asked the Japanese government for technical assistance. Kitakyushu, in turn, had been actively engaged in providing engineering aid for the supply of clean and safer water in Cambodia as an international cooperative effort.
The Japan-ASEAN Integration Fund will cover the total project cost of 180 million yen (US$2.14 million, based on the press release on Aug. 26, 2011). The Fund, to which Japan had pledged to contribute 7.5 billion yen, was established to help ASEAN countries rectify disparities in the region.
Japan's Leading Water Treatment Technology and its Potential
http://www.japanfs.org/en/mailmagazine/newsletter/pages/030099.html
Osaka City Water System Plan Adopted by NEDO as Support Project for Vietnam (Related JFS article)
http://www.japanfs.org/en/pages/029666.html
Japanese Technology to Help Address Global Water Problems (Related JFS article)
http://www.japanfs.org/en/pages/029151.html
Posted: 2012/01/13 06:00:15 AM