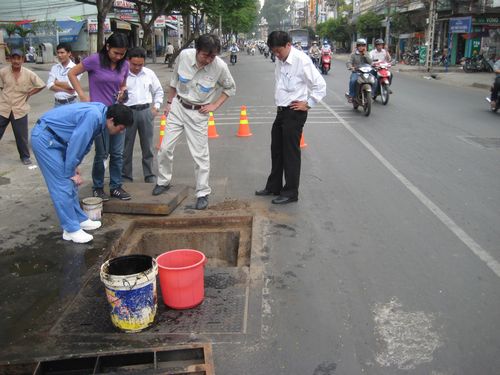 Copyright Osaka Municipal Waterworks Bureau

The Osaka Municipal Waterworks Bureau announced on November 6, 2009, that a joint proposal for a water circulation system proposed with the Kansai Economic Federation and its member companies was adopted by the New Energy and Industrial Technology Development Organization (NEDO) of Japan as a Water-Saving, Sustainable Project to support water supply infrastructure in Ho Chi Minh City, Vietnam. This is the first plan drawn up by a public water-supply corporation and adopted as a NEDO project in Japan.
The NEDO's Water-Saving, Sustainable Project was launched to promote Japan's advanced water treatment technologies against a backdrop of growing concerns about worldwide water shortages, the emergence of water problems and expanding water businesses. In the newly-adopted project, Ho Chi Minh City aims to reduce the electricity consumed by its water supply system by more than 30 percent, by reducing water losses at water treatment plants in its water supply and distribution system (water-saving measures), by making more efficient use of energy at water purification and distribution facilities, and by using renewable energies such as solar power. The measures were devised after evaluating energy efficiency throughout the water system from water resources to the taps.
Ho Chi Minh City plans to improve their water supply infrastructure based on a proposal that will be formulated in fiscal 2010.
Osaka City official website
http://www.city.osaka.lg.jp/contents/wdu020/english/
NEDO official website
http://www.nedo.go.jp/english/
Posted: 2010/01/26 06:00:15 AM