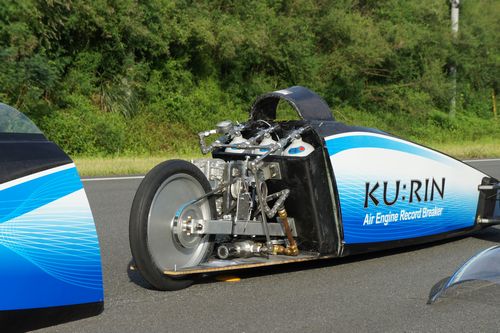 Copyright Toyota Industries Corp.

Toyota Industries Corp., one of the Toyota Group companies, announced on September 22, 2011, that the members of "Yume no Kuruma Kobo," or "Dream Car Factory," have developed a compressed air-powered car, "Ku:Rin." It is a three-wheeled eco-car that does not require fossil fuels or electricity to run.
The air engine is small and light, and is superior in terms of output power and instantaneous force. The Ku:Rin reached 129.2 kilometers per hour on September 9, 2011, on the Shirosato Test Course at the Japan Automobile Research Institute in Ibaraki Prefecture in Japan.
Toyota Industries Corp. is the world's leading supplier of compressors for car air conditioners. Compressors are used to compress refrigerant in air conditioning systems. However, the Ku:Rin uses these parts for inflation instead of compression, and the motor is driven only by the inflation power of the compressed air.
"Yume no Kuruma Kobo" is one of the club activities of Toyota Industries Corp., called Hoyukai, and was established in December 2006 to nurture young engineers and challenge existing manufacturing concepts with free minds and ideas. The group consists of about 40 engineers from various departments and fields who collaborate on a voluntary basis after work, and is currently planning and producing unique concept cars under the theme of dream cars.
Posted: 2011/12/21 06:00:15 AM