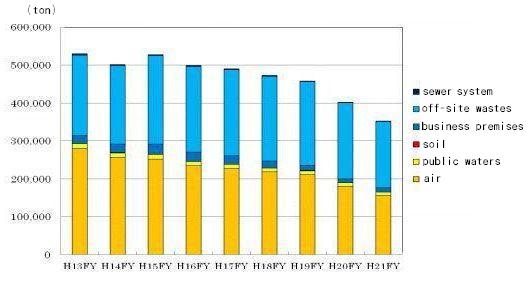 Copyright Ministry of Economy

Japan's Ministry of the Environment and the Ministry of Economy, Trade and Industry unveiled on February 24, 2011, the fiscal 2009 data on pollutant release and transfer based on the Pollutant Release and Transfer Register (PRTR) Law. The amount of the release and transfer totaled 352,000 tons, 12.4 percent less than the previous year. The data has been released annually since fiscal 2001, and this is the ninth year the data has been published. The total amount of pollutants has decreased every year since fiscal 2003.
The PRTR Law mandates businesses to report the amounts of 354 chemical substances (462 substances in fiscal 2010 and afterwards) that may be hazardous to human health and the ecosystem and are released into the environment or transferred off-site in the form of waste. The database for fiscal 2009 includes reports from 38,141 businesses.
Of the total amount, 44 percent went into the air, 2.4 percent entered public waters, 0.13 percent entered the soil, 3.2 percent was buried on business premises, 50 percent was transferred as off-site wastes, and 0.4 percent entered the sewer system. The top five chemical substances were toluene (32%), xylene (12%), manganese and its compounds (6.9%), methylene chloride (6.2%), and ethylbenzene (4.9%). The top three polluting industries were chemical industries (27%), transportation machinery industries (13%) and plastics manufacturing industries (10%).
First Compilation of PRTR Chemical Release Data Unveiled (Related JFS article)
http://www.japanfs.org/en/pages/025236.html
Environment Ministry Releases Annual Guidebook on Chemical Management Data (Related JFS article)
http://www.japanfs.org/en/pages/026385.html
Posted: 2011/05/23 06:00:15 AM