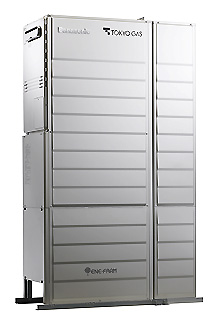 Copyright Tokyo Gas Co.

Tokyo Gas Co., a major Japanese gas company, and Panasonic Corporation, a leading consumer electronics company, announced on February 9, 2011, that they had jointly developed a new model for the household fuel cell line "Ene-Farm" and would start sales on April 1. This advanced product has achieved a rated generation efficiency of 40 percent (lower heating value), which is a world best. The retail price is 2,761,500 yen (about U.S.$34,100), about 700,000 yen (about U.S.$8,642) lower than the conventional model.
While models from other companies use liquefied petroleum gas, "Ene-Farm" uses city gas, and generates electricity and heat from hydrogen extracted from city gas and oxygen from air for household use. Based on our survey it is expected that a family of four can save about 50,000 to 60,000 yen (about U.S.$617 to 741) in yearly utility costs, reducing carbon dioxide (CO2) emissions by about 1.5 tons a year, when compared to the conventional model.
Improved generation efficiency and durability have enabled the new model to reduce the rated generation capacity from 1.0 kW to 750 Watts, while maintaining the same energy-saving and CO2 reduction effects as the conventional model. New core components are some 30 to 40 percent smaller, the number of components has been reduced by 30 percent and overall weight is 20 percent lower. This allowed the model to be offered at a lower price.
The surface area required for installation is about 2 square meters, which is half as much as the current model. To encourage users to enjoy saving energy, the screen on the remote control has been made larger to show the power production performance and other data for an improved visualization of energy.
Tokyo Gas - Developing Next-Generation Natural Gas Energy to Create a Sustainable Social System
http://www.japanfs.org/en/mailmagazine/newsletter/pages/029556.html
World's Largest 'Hydrogen Town Project' Starts in Japan (Related JFS article)
http://www.japanfs.org/en/pages/028694.html
Posted: 2011/04/28 06:00:15 AM