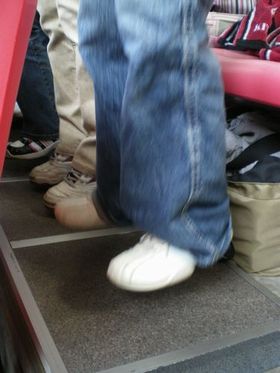 Copyright Crimson Football Club, Inc.

Rakuten Inc., an Internet service company, and Vissel Kobe Co., a professional soccer team, jointly launched the practical introduction of a power-generating floor system at the Home's Stadium Kobe in Hyogo Prefecture in Japan on July 25, 2010, during a match of J League Division 1 Section 14 teams Vissel Kobe versus Omiya Ardija.
The system, which converts the vibrations caused by fans jumping during the game into electricity, has been installed beneath 24 seats so far. Compared to its pilot introduction, the new system can detect more vibration because of enlarged piezoelectric elements in the floor units.
This is the first attempt in the world to fully introduce the system, and in response to the increasing popularity of soccer in Japan after the last FIFA World Cup, it is expected that an increase in the number of excited fans of the team will lead to higher electricity output at the stadium.
This introduction of the power-generating floor system aims to encourage supporters to be more environment-conscious. In addition, both companies are working to raise money for the installation of more of the power systems through a campaign called the Rakuten and Vissel Kobe Eco-Project Fund as an easy-to-do environmental conservation activity while actively collecting plastic bottles and caps.
Posted: 2010/11/27 06:00:15 AM