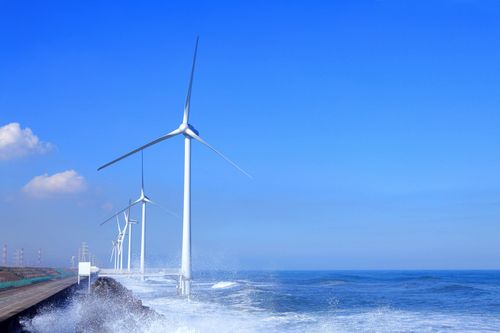 Copyright Wind Power Ibaraki

Wind Power Ibaraki Ltd. began ocean trials of its "Wind Power Kamisu" installation in March 2010, which is Japan's first full-scale offshore wind power station. It is located approximately 50 meters away from the shore protection of the Kashima port area in Kamisu, Ibaraki Prefecture. Each of the seven wind turbines, which are 60 meters in height and have blades 80 meters in diameter, has an output of 2,000 kilowatts (kW). Combined, they provide a total rated output of 14,000 kW.
Planned total energy output of the seven wind turbines is 35 million to 39 million kW annually, and full-scale operation is expected to start at the end of June 2010.
Wind turbine installation costs are higher offshore than on land, but offshore wind turbines can provide more stable energy generation, as they are less affected by interference from buildings or topography compared to inland. In addition, installation of wind turbines offshore reduces noise and vibration impacts on surrounding communities.
World's First Hybrid Spar-Type Platform for Floating Wind Turbine Succeeds in Demonstration Test (Related JFS article)
http://www.japanfs.org/en/pages/029511.html
Kyushu University Research Team Discloses Plans for a Mega Hybrid Power Plant on the Ocean (Related JFS article)
http://www.japanfs.org/en/pages/028641.html
Posted: 2010/07/24 06:00:15 AM