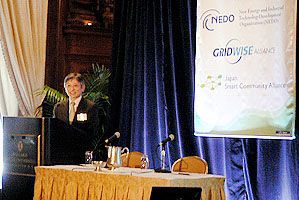 Copyright New Energy and Industrial Technology Development Organization
The Japan Smart Community Alliance was launched on April 6, 2010, as a working group to pursue solutions to common issues among smart communities (energy and social infrastructure including smart grids), such as overseas development, the international standardization of smart community- related systems, and other issues. The Alliance comprises 287 member companies from various industries including power, gas, heavy electric machinery, household appliances, telecoms and real estate developers.
In response to the announcement by the Ministry of Economy, Trade and Industry on February 15, 2010, that it would establish the Alliance, the New Energy and Industrial Technology Development Organization (NEDO) called for participants and created the Alliance. NEDO functions as the secretariat for the Alliance.
As its first activity, the Alliance dispatched a mission consisting of its member companies and METI and NEDO officials to the United States between April 13 and 16 to talk with government agencies in the US. It also co-hosted the Japan-US Smart Grid Seminar with a US trade organization, GridWiseR Alliance.
The alliances of both countries signed a memorandum of understanding concerning future Japan-US cooperation. They intend to expand the smart grid business in accordance with the agreement, and work together to spread smart grid technology around the world and to establish global standards.
METI Announces International Standardization Roadmap for Smart Grid (Related JFS article)
http://www.japanfs.org/en/pages/029850.html
NEDO official website
http://www.nedo.go.jp/english/
Posted: 2010/07/23 06:00:15 AM