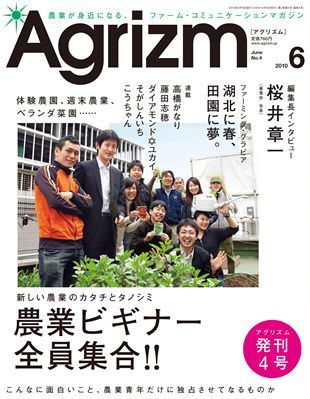 Copyright Agricultural Communications Co.

The inaugural issue of "Agrizm," an agriculture magazine directed at young people hit newsstands on July 16, 2009. The magazine, published quarterly, was planned by the National Liaison Council of Rural Youth Clubs, on which chief editor Masachika Ogihara serves as the former chairman, and printed in cooperation with Agricultural Communications Co., Ltd. The magazine's introduction includes the statement, "We want to show the true faces of young farmers."
Built around the idea of a "farm communications magazine that brings agriculture closer to home," The magazine's mission is to awaken urbanites' awareness of agriculture and deepen their interest in farming by highlighting the achievements of young producers and the real work done on the farm. It also aims to share the information about the initiatives by younger farmers all over Japan with farmers of their generation.
"Only Real Farmers Grow Rice!" was the first issue's featured topic. One of the articles, titled "Rice-making Relay across Japan," included interviews with 11 young farmers in seven different regions of the country, showing their personal backgrounds and initiatives, and included information on other projects related to rice.
"Agrizm" is printed using rice ink made from rice bran oil, and is scheduled to be published four times a year. Four issues have been published thus far.
Japan Times - Young people see future in farming
http://search.japantimes.co.jp/cgi-bin/nn20090403f1.html
Posted: 2010/05/29 06:00:15 AM