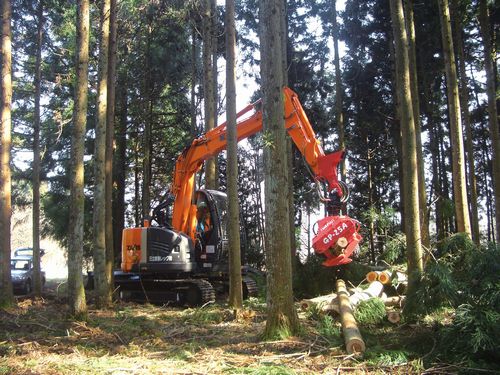 Copyright Hitachi Construction Machinery Co.

Hitachi Construction Machinery Co. announced on February 12, 2010, that the total number of orders for carbon-offset forestry machines reached 100 in January 2010. The company has been selling carbon-offset forestry machines since October 2008, and this is the first effort of its kind for the Japanese construction machine industry.
Carbon-offset machines for forest management include specialized machines for forestry, high-performance forestry machines and timber crushers. To cover the amount of carbon dioxide (CO2) emitted during the manufacture of such machines, the company purchases one to two tons of CO2 emission credits per machine and transfers them to the Japanese government.
Hitachi will obtain emission credits from the Certified Emissions Reduction (CER) credits gained through the Clean Development Mechanism (CDM) project for CO2 reductions in developing countries under the United Nations standards. It is also expected to contribute to Japan's reduction target of minus 6 percent from 1990 levels, as stipulated in the Kyoto Protocol.
The machines will have stickers to show their involvement in this carbon-offset activity and carbon credit certificates will be sent to purchasers.
Hitachi Construction Machinery global website
http://www.hitachi-c-m.com/global/
Posted: 2010/05/23 06:00:15 AM