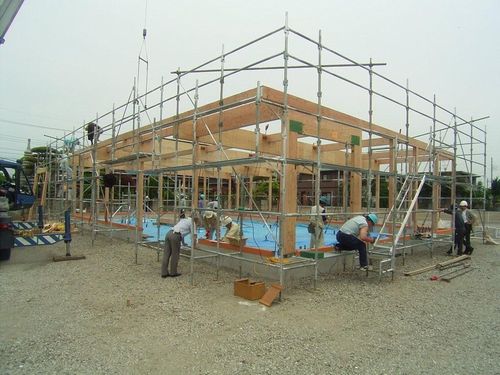 Copyright Ministop Co.

Ministop Co., one of the Japanese leading convenience store chains, announced on October 8, 2009, that it would build branch stores using domestic wood certified by the Forest Stewardship Council (FSC). This is the first attempt of its kind by a commercial establishment in Japan. The first FSC-certified Ministop store will be Koshigaya Lake Town East Branch Store, which opened on December 16, 2009.
According to the company, the carbon dioxide (CO2) emissions from obtaining and processing the building materials is 105.5 kilograms per store using conventional steel-frame construction methods, but this is reduced to 72.5 kilograms when using wood as a building material. The wood used for building the store also fixes 10 tons of CO2. Wood precut in a factory is assembled with metallic joints, allowing the building to be easily disassembled and the materials to be reused.
The FSC is an international non-profit organization, whose members certify wood produced in an economically sustainable way with due consideration to conserving forests and the environment, as well as benefiting surrounding communities. Consumers can contribute to fostering sound forests and protecting the global environment by purchasing FSC-certified products.
Ministop is planning to build more than 20 FSC-certified shops annually.
Ministop Launches Eco-Conscious Outlet on College Campus (Related JFS article)
http://www.japanfs.org/en/pages/029567.html
Japanese Convenience Store Chain Starts Selling Fair Trade Products (Related JFS article)
http://www.japanfs.org/en/pages/028817.html
2009 Ministop CSR Report
http://www.ministop.co.jp/eco_social/pdf/
env_2009_en.pdf
Posted: 2009/12/25 06:00:15 AM