JFS Newsletter No.86 (October 2009)
"Towards a Sustainable Japan -- Corporations at Work" (No. 84)
From its perspective as an agency connecting job seekers with employers in Japan, Grace Co. has witnessed some changes in society since the firm's establishment in 1995. Grace is a well-known environment-related personnel and human resources solutions company that operates under a corporate mission of "Realizing a beautiful, affluent and sustainable society where everyone can feel motivated and enjoy working."
http://www.japanfs.org/en/mailmagazine/newsletter/pages/027863.html
Grace operates an environment-related job placement site, "www.kankyo-job.net" (Japanese only; "kankyo" means "environment"), which uses job-matching advisors who have a detailed knowledge of environment-related work. They carefully match employers with job seekers through this site, and this unique human resources matching system has gained the trust of its users.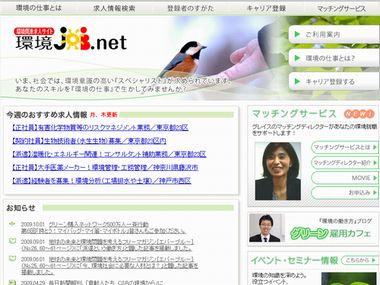 Copyright GRACE Co.

Currently, the world is in the midst of what is being called a once-in-a-hundred-years recession and a global economic slump. Japan is no exception. The country's unemployment rate reached 5.7 percent in July 2009, by which point approximately 1.3 million people had lost their jobs since the end of 2007, and the job market continues to tighten.
http://www.oecd.org/document/22/
0,3343,en_2649_34251_43687958_1_1_1_37457,00.html

It is under these circumstances that Japan experienced a dramatic change in politics this year. The Democratic Party of Japan took control of the Japanese government in September 2009, replacing the Liberal Democratic Party that had ruled almost continuously for several decades. At his address to the 64th Session of the United Nations General Assembly in September, new Prime Minister Yukio Hatoyama stated that Japan will make its utmost effort to address the challenges that the world faces today, by playing the role of a "bridge" for the world in dealing with the challenge of climate change. He pledged to achieve the Japanese government's ambitious target to reduce greenhouse gas emissions by 25 percent by 2020 from the 1990 level.
Under today's tough economic conditions, how will the Japanese government carry out its pledge to international society? In the midst of the major changes that must happen, companies like Grace that offer human resources solutions with a focus on the environment will play an important role.
What can be done now, and what must be done in order to make things be the way they should be for people, companies, society and the Earth? For this article, we interviewed Etsuko Yasui, President of Grace, and Fumiyo Ogawa, Executive Director. Both have developed their perspectives on people and society through many years in the field of personnel services.

Human Resources Solutions for Sustainable Society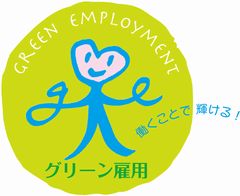 Copyright GRACE Co.
If you think of environment-related personnel services you might come up with the term "green employment." Grace has used this term since the firm was established 15 years ago, but for this company the term did not mean just environment-related employment.
"We have been using the word 'green' to mean 'empowering and enjoyable.' By being engaged in your job while thinking about the relationship between your own job and society, you can find meaning in your work. The result is empowering and enjoyable work, and this can lead toward a sustainable society. The environment is a matter of global concern today. It was logical for us to start proposing and promoting environment-related and environmentally conscious jobs," says Yasui.
Developing human resources with environment-related knowledge is a very important theme for the Japanese government as well. After setting up a study group composed of experts from universities, companies and non-profit organizations (NPOs), the Ministry of the Environment drew up a Vision of University-led Environmental Leadership Initiatives for Asian Sustainability (Environmental Leadership Vision) in March 2008 and started to move toward realization of the vision. Yasui is involved with this process as an inaugural member of a project, the Environmental Consortium for Leadership Development. The consortium aims at creating jobs through environmental protection and developing human resources to stimulate the Japanese economy, while coping with issues the society is facing. These aims overlap with the mission of Grace.
ELIAS: Environmental Leadership Initiatives for Asian Sustainability
http://www.env.go.jp/policy/edu/asia/en/index.html
Ogawa says, "We are always thinking about how Grace can increase job opportunities with the environment as the keyword. Taking a step forward from being an agency merely offering temporary staff and regular employees, we would like to contribute to companies and workers as an agency that can suggest human resource solutions for creating a sustainable society."

Supporting Corporate Responses to Japan's Revised Energy Conservation Act
As one such example, to help companies boost their energy efficiency in response to an amendment of the Act on the Rational Use of Energy (also known as Energy Conservation Act), scheduled to enter into force on April 1, 2010, Grace has started an assistance program that develops personnel with the required expertise.
The original Energy Conservation Act was passed in 1979 at the time of the second global oil crisis in that decade. The latest amendment focuses on strengthening energy conservation measures in the commercial and household sectors, as carbon dioxide (CO2) emissions from these sectors account for more than 30 percent of the total in Japan and have been increasing year by year.
Revised Energy Conservation Law Enhances Measures for Offices and Homes
http://www.japanfs.org/en/pages/027121.html
In the commercial sector, the revised act targets business enterprises that consume 1,500 kiloliters (crude oil equivalent) or more of energy per year by the entire company (rather than by individual factory, store, or office sites). This means that franchise chains, such as convenience stores, will be obliged to promote energy conservation as an entire corporation, even though each store's energy use may be relatively small. The targeted corporations will be required to appoint an energy management control officer and an energy management planning promoter, and to submit periodic reports and medium-and long-term energy conservation plans.
For companies that lack the human resources to do such work, Grace plans to hold seminars on effective measures in response to the Revised Energy Conservation Law. Moreover, Grace is considering launching a study group by inviting energy-related government officials, manufacturers of energy-efficient appliances and equipment, energy service companies (ESCOs) and so on, so that companies that need to take energy-saving measures can work out their issues and take steps to make improvements. Ogawa says, "We hope these efforts will reveal new human resources solutions that will help to create a sustainable society."

Environmental Business More Diverse, Workers Need Broader Perspectives
When Grace was established, the concept that "empowering and enjoyable employment and work styles move us toward a sustainable society" was not well appreciated by people who heard it. Later, in 1999 when the company became Japan's first personnel agency to acquire ISO 14001 certification (for environmental management systems), some people apparently asked why this kind of company would need it, but eventually other major personnel agencies followed Grace in acquiring this certification. Today, the idea of "green employment" as expressed by Grace is becoming more widely accepted.
Today the "environment" is a key word in the world. By becoming aware of the environment, people can discover new ways to make the most of their abilities in society. Demand for environment-related work is spreading into more diverse sectors and occupations.
Ogawa says, "Most job demand used to be for environmental analysis related to metrics and measurement, so such professional certifications were very important to get a job. Today, the demand for workers relating to environmental management or CSR management is growing. Some jobs require certain qualifications, but there has been a tremendous increase in job opportunities for people without those specific qualifications. Every department in every company requires personnel who take the environment seriously."
In addition to such changes in what employers seek in the job market, Grace has also observed changes in the mindsets of working people. For example, a man registered in the company's matching system wanted to devote himself to a job more related to the environment. After searching, he left a major corporate management consulting firm to take a job in CSR management consulting, even though he know that his annual income would decrease. Another example is a woman who used to be an environmental analyst. She wanted to interact more with people in her job, and decided to switch to an insurance company, where she realized that she really enjoyed interacting with people. She later switched jobs again to join an environmental NPO and enjoys working there today.
"Such cases taught me that environment-related work requires people that can seriously take on many tasks that go beyond their specific qualifications. The ideal personnel for environment-related jobs can see their work from many different angles. These are not people who 'can't see the forest for the trees.' They understand how their work fits into the organization, can consider what the organization needs, and find meaning in their work. People like this will be an asset at any company," Yasui says.
Grace's primary concern these days is about environmental education. The company would like environmental education in society to train people to think with a broader perspective about conserving the global environment, not just a short-sighted perspective that might fixate on planting trees to prevent global warming, for example. Grace believes that the diversification of environment-related business requires the educational system to give people a broader perspective on things. In its role as a personnel agency connecting employers and workers, Grace intends to continue offering ideas on how to create a sustainable society.

Written by Reiko Aomame