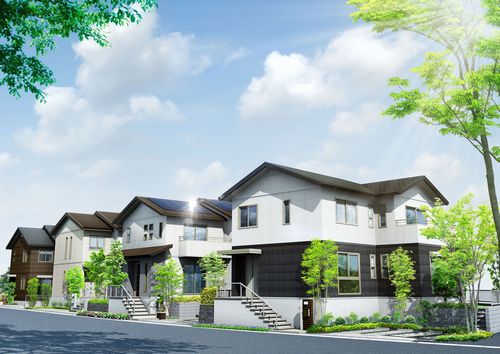 Copyright Toyota Housing Corp.

Toyota Housing Corp. of Japan started on July 18, 2009, selling houses in a new "green" residential development in Kasugai City, Aichi Prefecture. The ceremony to celebrate the opening of the development was held on the same day.
The residential development is large, featuring 171 lots in total. Each lot is equipped with an underground water tank to store rainwater for home use. The use of rainwater will not only reduce water consumption but also reduce energy consumption at water filtration plants, thereby saving overall power consumption in the district. In addition, the company established guidelines both for planting greenery and exterior designs with an aim to create a beautiful area and living environment surrounded by lush greenery which will contribute to reducing carbon dioxide (CO2).
The houses built in the development are Toyota Housing's homes which are well-insulated to save energy and reduce CO2 emissions. The company also encourages customers to install other eco-friendly systems in their houses, such as a solar power systems and an "eco cute," a heat-pump water heater utilizing carbon dioxide.
Toyota Launches Development of Home Energy Management System with Power Storage Function (Related JFS article)
http://www.japanfs.org/en/pages/029108.html
Posted: 2009/10/31 06:00:15 AM