JFS Newsletter No.85 (September 2009)
"Initiatives and Achievements of Local Governments in Japan" (No. 26)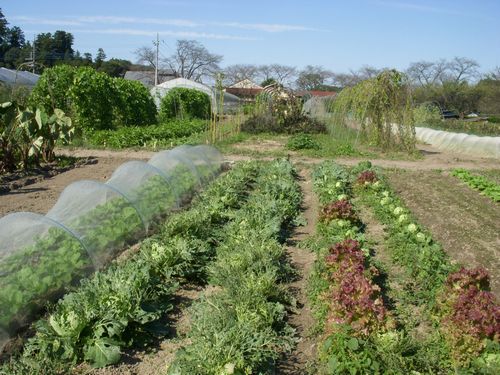 Copyright Japan for Sustainability

Ogawa is a town in Saitama Prefecture, about an hour by train from Tokyo, which is rich in natural beauty and surrounded by mountains, with some 35,000 residents calling it home. With its historic streets and the surrounding environment of "satoyama" woodlands (areas of rich biodiversity near human settlements in the countryside), the town is often called "Little Kyoto in Musashi" (Musashi is an old name for Saitama, and was part of what is now Tokyo and Kanagawa Prefecture). It has long thrived on traditional industries, including a 1,300-year history of hand-made Japanese paper, Ogawa silk, joinery made of wood using local forest resources, and sake (Japanese rice wine) brewing using its quality mountain water.
Yoshinori Kaneko is a farmer who has been organic farming in Ogawa for the past 38 years. In the 1970s, around the time Kaneko started farming, the book "Limits to Growth," commissioned by the Club of Rome, was published. It caused a sensation all around the world due to its conclusion that if the world population and economy continued to grow at the same pace, and the environment was further destroyed, that humanity would face the dire consequences of overstepping the natural limits to growth. In addition, while the world saw economic turmoil resulting from oil shocks at that time, Japanese people were experiencing pollution-caused diseases such as the itai-itai (pain-pain) malady and Minamata disease. In addition, the Acreage Reduction Program was started around that time to regulate rice production.
Against this backdrop, Kaneko thought that a lifestyle of rich self-sufficiency would be the key to farming in a manner that would produce safe, tasty, and nutritious food. "Fossil fuels and mineral resources that the current 'industrial society' depends on will become depleted in the future," he thought, "and we will need to shift to a permanent 'agro-based society.'"

Aiming to Create an "Organic Cycle"
"To produce safe and tasty food, it is important to practice farming without chemical fertilizers and pesticides, using the organic cycles of nature." At Kaneko's farm, he employs complex agricultural techniques while raising livestock such as cows, chickens, and rice-ducks, while growing a variety of seasonable crops at the same time. So there is a cycle: the people eat food they grow on their own farm; food waste, crop residue, and weeds are fed to animals; livestock manure and fallen leaves from the nearby forests are composted, and then spread on fields and rice paddies as nutrients.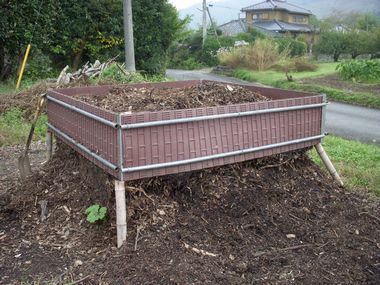 Fallen leaves being composted : Copyright Japan for Sustainability

In addition to this circular style of organic farming, he also makes efforts to become more self-sufficient in terms of energy, with the aim of being completely self-sufficient. He has incorporated natural energy systems, including solar power and biogas, as well as uses straight vegetable oil (SVO) fuel made from waste cooking oil to power a tractor and a passenger car.
Kaneko has also endeavored to promote and spread the practice of organic farming, too. For the last 25 years, to train successors, he has received more than 100 trainees, who are now active not only in Japan but all over the world. He also founded the Ogawa's organic farming producers' group in 1994, mainly with the trainees who started as independent farmers in Ogawa after the training. Currently, some 30 organic farms have joined so far and are working together on various activities, including a cooperative shipping program.
Tamie Iwasaki, a member of the organic farming producers' group said, "Organic farming has been getting more and more attention against the backdrop of the era of food security and safety and the environment in recent years. The agricultural approach is, however, very risky and labor-intensive for producers, and consumer awareness is still low. We would like to continue seeking out opportunities for technical improvement and information exchange, expand distribution routes, and deepen understanding among consumers. We aim to live a lifestyle that does not impose a burden on the natural environment, in which human beings coexist and practice agriculture that respects people and provides rich self-sufficiency."
The efforts of the Ogawa organic farming producers' group has expanded further because of the collaboration between the local government and citizens. Various people, including young people who want to learn how to farm organically, began to come to Ogawa. From the political side, Kaneko, who was selected as a council member of Ogawa in 1999, uses organic farming to boost community development based on self-sufficiency of food, energy, and recycling materials.

Another Aspect of Material and Energy Circulation -- Locally Supported Organic Farming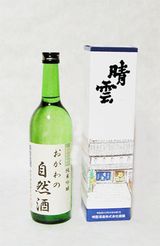 Ogawa's sake product
Copyright Japan for Sustainability
Organic farming depends heavily on natural conditions such as weather. Therefore, production volumes are often unpredictable, and the size and shape of the produce grown varies. To support organic farming and promote revitalizing the town at the same time, local businesses began to cooperate. In 1988, starting with Ogawa's Natural Sake product, made from organic rice and marketed through a partnership with a local sake brewer, the group began to develop other products made from locally grown organic produce, including soy sauce, dried noodles, and tofu. Some local companies started supporting organic agriculture in Ogawa by purchasing the produce. For example, one company committed to buying all available organic soybeans, and another started a company-wide initiative to buy organic rice.
http://www.japanfs.org/en/pages/029149.html
A few farmers started switching to organic farming practices, and the number has continued to increase, because they discovered some new markets for their organic agricultural products, witnessed actual cases of pesticide-free production nearby, and realized the difference in the quality of the products compared to conventionally grown ones. One farmer said, "I am over 70, and finally I've discovered how much fun farming is." It shows a positive feedback loop in which the town is revitalized and reorganized around organic farming.

Community Building for the 30th Century
The Ogawa Natural Energy Study Association formed to start up a pilot biogas plant in 1992. Currently, a non-profit organization, the Ogawa Foodo Application Center (Foodo, for short), which took over the project, is currently working with the local government and citizens on a project to recycle food waste. The food waste collected by the local government is converted into liquid fertilizer and methane gas at a nearby food waste recycling plant. The producers buy and use the liquefied manure. Through this project, 87 tons of food waste was recycled from 2001 to 2007.
http://www.japanfs.org/en/pages/026043.html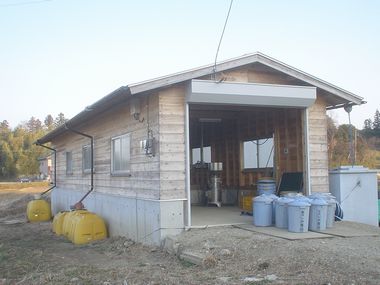 Biogas plant
Copyright Japan for Sustainability

Yuko Takahashi, from the non-profit group Seikatsu Kobo "Tsubasa-Yu", which participated in planning the food-waste recycling project, said, "I'd like to establish a self-sustaining community in Ogawa, created by the citizens, with the aim being self-sufficient in energy and food without being affected by outside influences."
Half of the funds needed to establish Ogawa's recycling plant came from local citizens. They are investing their own money in the project, and they share its outcome -- both profits and losses. "This is a new type of 'citizen-led public works.' In this scheme," Takahashi said, "urban residents who don't have a means of production can cooperate with farmers to create a more sustainable society."
The citizens also hold various activities to revitalize their local community. For example, they plan and hold site visits to Frostpia Farm, where visitors can see organic farming and resource recycling in practice, they sponsor cooking classes using locally grown organic produce, promote "candle night" events, and provide "catering" classes on the environment to elementary schools. They also have initiatives to promote the use of locally produced food and energy to local businesses, such as their project to develop the production of tofu made from locally grown soybeans.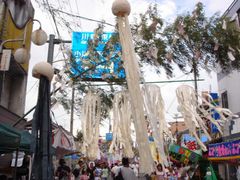 Ogawa's Star Festival
Copyright Japan for Sustainability
Another of their efforts is promoting Ogawa's traditional "Star Festival," which includes use of traditional, handmade Japanese "washi" paper that originated 1,300 years ago (and is said will last up to one thousand years). "Local people tend to take the local natural environment and traditional industries for granted, but these are very attractive to people outside," Takahashi said. "We are engaged in various activities to properly use, and not waste, our local 'treasures.'" With the hope that the world in the 30th century will be a sustainable one, especially on the occasion of the Star Festival, the citizens of Ogawa are working together towards creating a self-sustaining community.

From Ogawa to the World
Such efforts are not limited to just Ogawa, where the organic agricultural farms support the local community and the community supports the farms. Similar efforts can be seen in the United States, in Laurence and Kansas City, in the state of Kansas. At the very heart of industrial-scale farming operations in the U.S., organic farmers and local communities are vigorously supporting each other to boost local development.
From May to June 2009, during an exchange program titled "Global Partnership for Local Organic Food," organized by non-profit organizations, IFOAM Japan and the Kansas Rural Center, visiting organic food producers and specialists stayed in Ogawa for six days, and visited local organic farms and interacted with the organic farmers. In June, ten people visited Kansas, including some organic farmers from Ogawa. In the exchange program, organic farmers and specialists from both sides of the planet shared information, discussed problems they had, and learned more about the similarities and differences between them. Communication is still underway on the program's website. The program proved to be a valuable experience for both groups, and after returning home, discussions still continue between them on some of the things they learned from each other, such as the benefits of a joint shipment program and how to expand their market share.
http://www.gplof.org/ (English, Japanese)
In Japan, the Organic Agriculture Promotion Law was enacted in December 2006. Ogawa was selected as a model town of organic agriculture for five years, starting in 2008. The town, the local agricultural cooperative, producers, and citizens formed a council to promote organic agriculture, with the organic producers' group playing a central role. The council has been working to promote organic farming, such as holding seminars for would-be organic farmers.
Also, in order to take further advantage of the international exchange program, some new projects are being discussed, such as an exchange program for young producers. As a result of these citizen-led initiatives, Ogawa is on the way towards being a sustainable society in the 30th century. The people involved in local development initiatives that center on organic agriculture are looking forward to spreading to the world this sustainable agricultural model into the next century.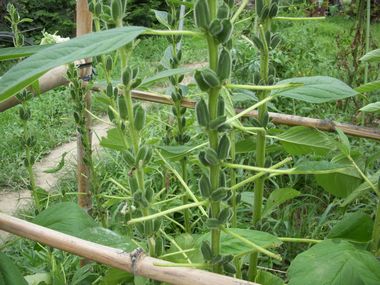 Copyright Japan for Sustainability

Written by Chizuko Sato