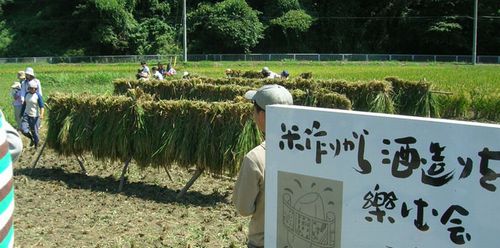 OKUTA, an environmentally conscious home renovation company based in Saitama Prefecture, Japan, started procuring organic rice for its employees in March 2009. The objective of its Komé-Mamé Project (Komé-Mamé means rice and beans) is to increase employee interest in food and agriculture while supporting organic farmers within Saitama.
Making a full payment in advance, the company purchased 1.8 tons of rice harvested during the fall of 2008 from four organic farmers in the town of Ogawa, where efforts to become a center of organic agriculture are underway. The company also consigned 3.6 tons of new crops to be harvested in October 2009. Employees may purchase a certain amount of rice each month.
The company also plans to hold an eco-tour of the Shimosato Farm, an organic farm run by Mr. Yoshinori Kaneko for 38 years in Ogawa, and coordinate opportunities for employees to experience farming, such as rice planting and harvesting, soybean cultivation, and "miso" (bean paste) making. In addition, the company is investigating the utilization of forest-thinning byproducts and Japanese paper produced in Ogawa as building materials.
Posted: 2009/07/07 06:00:15 AM