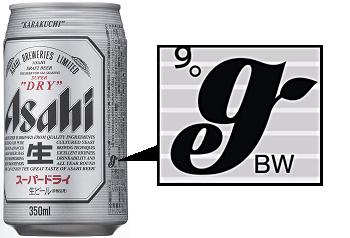 Copyright Asahi Breweries, Ltd.

Asahi Breweries, Ltd., a major Japanese brewer, announced on April 16, 2009, a plan to manufacture its main product -- Asahi Super Dry Beer (350 ml size) --and other beers included in gift sets using power from green sources such as wind and biomass energy. This is the first time in the Japanese food industry that a manufacturer uses green electricity to produce products in-house.
The company entered into a contract with Japan Natural Energy Co. to purchase 40 million kilowatts of renewable energy per year. This is the largest green power purchase contract so far in the Japanese food industry. Under the contract, the company expects to reduce its emissions by about 18,000 tons of carbon dioxide (CO2), which is equivalent to the annual emissions of 4,500 households.
Asahi Breweries plans to print the Green Energy Mark logo on applicable products from all nine of its breweries in late May 2009 as proof of its green power usage. The company is going to switch half of its total electricity consumption, usually produced from non-renewable energy supplied by power utilities, over to green-sourced power, and also generate the other half of electricity with its private-power facilities using natural gas.
Asahi Breweries, Ltd. official website
http://www.asahibeer.co.jp/english/index.html
Posted: 2009/07/28 06:00:15 AM