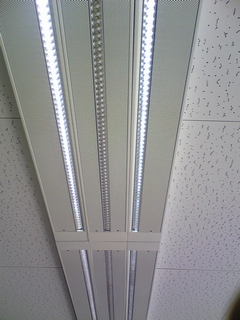 Copyright Daiwa House Industry Co.

Daiwa House Industry Co., a major home builder in Japan, launched a white light-emitting diode (LED) lighting system, dubbed the Grace Lumino, on April 1, 2009. This lighting system, which can radically reduce electric consumption and carbon dioxide (CO2) emissions when compared with conventional fluorescent lamps, was jointly developed with Nabesho Co., a steel material trading company, and Kyocera Corp., a major manufacturer of electronic components and ceramics.
With an illuminance sensor installed in the room, the Grace Lumino automatically controls the LED lights in accordance with the weather, time of day and region, thus preventing unnecessary energy consumption. This leads to a reduction of up to 53 percent in power consumption and CO2 emissions when compared with conventional fluorescent lamps.
The lighting system has other features: (1) a long life of about 100,000 hours, 2.5 times longer than typical LED lamps, as a result of packing LEDs with a ceramic material; (2) eye-friendly white light, generated by using red, green and blue phosphors in combination with a purple LED; and (3) an Eco-Monitoring System, which enables users to centrally monitor the power consumption, CO2 emissions and accumulated operating hours of the lighting equipment.
Beginning with convenience stores, Daiwa House will promote the use of the new lighting system in newly constructed and repaired hotels, office buildings and commercial facilities.
Development of Highly Efficient Light Fixtures Underway (Related JFS article)
http://www.japanfs.org/en/pages/028639.html
Daiwa House Industy Co. official website
http://www.daiwahouse.co.jp/English/index.html
Posted: 2009/06/18 06:00:15 AM